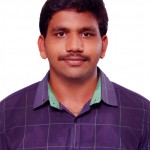 "I will definitely suggest AMCAT to all students and job seekers because only due to AMCAT, me and my friend got a job with a handsome package which I was not able to get through campus placement."
Anand Dasari, Vishnu Institute Of Technology, 2016 Batch
Aspiring Minds: Tell us something about yourself and your career goals.
Anand: My name is Anand Sasari. I am a final year B.Tech student. My goal is to become a successful engineer in a reputed company.
Aspiring Minds: What difficulties did you face while searching for a job and how did you overcome those difficulties?
Anand: I was not shortlisted twice in campus placements and was unable to get an interview opportunity. Then, I decided to take the AMCAT test. I gave the test and soon got a mail saying that I have been shortlisted for Mindtree.
Aspiring Minds: Tell us about your experience post giving the AMCAT test and how AMCAT helped you in getting the job at Mindtree?
Anand: I have keen interest in Quant, Verbal and Reasoning Aptitude. It is due to this that I got a good score in AMCAT test and could showcase my skill set. I was soon shortlisted for Mindtree and all this was possible only due to AMCAT.
Aspiring Minds: Would you suggest other job seekers to take AMCAT? If yes, why
Anand: I will definitely suggest this exam to all the students and job seekers because only due to AMCAT, me and my friend got a job with a handsome package which I was not able to get through campus placement. So I'll suggest guys, take AMCAT to get your dream job.
Aspiring Minds: Would you like to share some tips which can help other job seekers in getting a good job?

Anand: Prepare the basic topics well and take the AMCAT test as early as possible. Be confident during the interview because interviewers check your confidence and communication skills.
Finally, I would like to thank AMCAT for helping me get a job at Mindtree. All the best to all the job seekers.