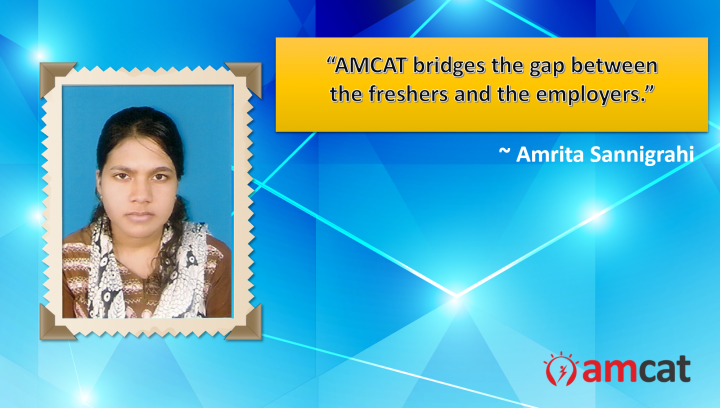 Isn't it tough to get a good fresher job in a top-notch MNC right at the start of your career?
Meet Amrita, a fresher from Jalpaiguri Government Engineering College and know how she managed to kick-start her career in the IT industry and nab an opening with Accenture.
Q: Tell us something about yourself and your career goals.
Amrita: Hi, My name is Amrita Sannigrahi. I have completed B.Tech from Jalpaiguri Government Engineering College. My career goal is to work with a top MNC and give my best in whatever I do.
Q: What difficulties did you face while searching for a job and how did you overcome those difficulties?
Amrita: I did not face many difficulties as I took AMCAT at the right time, i.e. final year of my graduation. It helped me give a great start to my career.
Q: How long did it take to get your 1st interview call after AMCAT?
Amrita: I took AMCAT in my final year and had few months left for my graduation to complete. A number of calls started coming in approximately 2 months after taking AMCAT.

Q: Tell us about your experience post giving the AMCAT test and how AMCAT helped you in getting the job at Accenture?
Amrita: The experience was amazing right from the beginning. After the test the AMCAT team provides you with the detailed feedback report which helps you know your strengths and weaknesses. AMCAT helped me fulfill my dream of getting a job at Accenture. I am thankful to the AMCAT team from the core of my heart.
Q: How many interview calls did you get after taking the AMCAT?

Amrita: As I mentioned above, I got many calls right from the start-ups to the top-notch MNC's.
Q: Would you suggest other job seekers to take AMCAT? If yes, why.
Amrita: All the fresh graduates must take the AMCAT test. It provides you with a plethora of job opportunities and also bridges the gap between the freshers and the employers.
Q: Would you like to share some tips which can help other job seekers in getting a good job?
Amrita: Always have faith in yourself. Practice your core subjects and work on your communication skills. During the interview, be confident and positive about yourself. You will kill it! All the best guys.
Want to give a right start to your career? Take AMCAT and get a step closer to your dream job!