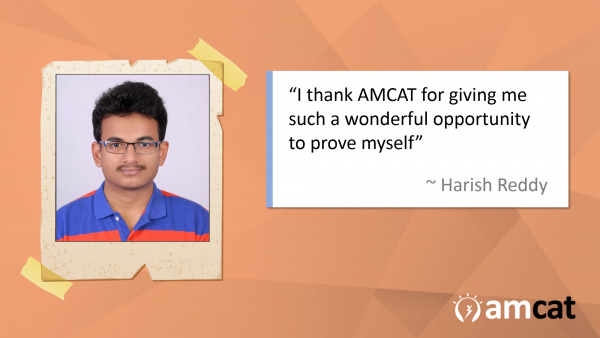 Meet Harish Elavala Reddy, a fresh graduate from Bharat Institute of Engineering and Technology and know how he managed to kick-start his career in the IT industry straight out of college.
Q: Tell us something about yourself and your career goals.
Hi, my name is Harish Elavala Reddy and I am from Hyderabad. My career goal is to work with a good brand where I can get a good job profile and package.
Q: What difficulties did you face while searching for a job and how did you overcome those difficulties?
I got some job offers from the campus placement but those were not that satisfactory. After which I took the AMCAT test and got a job at Mindtree. I would like to thank AMCAT for giving me such a wonderful opportunity to prove myself.
Q: Tell us about your experience post giving the AMCAT test and how AMCAT helped you in getting the job at Mindtree?
The entire process after the test was quite smooth. All you have to do is score well in the test and the rest will follow.
Q: Would you suggest other job seekers to take AMCAT? If yes, why.
I would advise every job seeker to take AMCAT. It helps you know about your positives and negatives. Also, provides you with lots of good job opportunities.
Q: Would you like to share some tips which can help other job seekers in getting a good job?
Prepare well, take AMCAT, and get a good score. Most importantly, don't loose hope. If you are good, you will get your dream job. All the best!
Harish is not the only one, read more of our success stories and know how AMCAT helped them get their dream job.