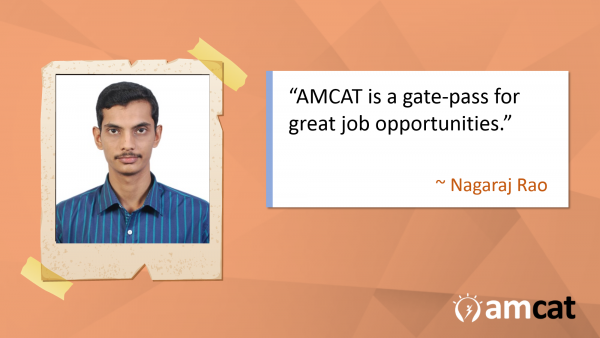 Meet Nagaraj Rao, a fresh graduate from Vignana Bharathi Institute of Technology and know how he managed to kick-start his career in the IT industry straight out of college.
Q: Tell us something about yourself and your career goals.
My name is Nagaraj. Though I wanted to be a writer but because of personal reasons I had to choose IT as a career option. Looking back, now I am quite happy with my decision to choose the IT sector.
Q: What difficulties did you face while searching for a job and how did you overcome them?
I hardly faced any difficulty as AMCAT helped me throughout the job search process. I simply took the AMCAT test, scored decently, got an interview call from Mindtree and got placed.
Q: Tell us about your experience post giving the AMCAT test and how AMCAT helped you in getting the job at Mindtree?
AMCAT is a gate-pass that helps you to connect with both top notch companies and start-ups.
The experience after the AMCAT test was really good. And as I said, the entire process was pretty simple. Just by scoring well in the AMCAT test, I got multiple interview opportunities and was able to convert a job at Mindtree.
Q: How many interview calls did you get after taking the AMCAT?
I got around 3-4 interview calls.
Q: Would you suggest other job seekers to take AMCAT? If yes, why.
Yes. AMCAT test takes you a step closer to your dream job. All you have to do is score well in the test and the interviews will start flowing. Also, AMCAT helps you to know your position against the competition by analyzing your strengths and weaknesses.
Q: Would you like to share some tips which can help other job seekers in getting a good job?
Stay focused and work on your core areas. While preparing for AMCAT, having a look at the syllabus and sample paper helps.
All the best!
Nagaraja is not the only one, read more of our success stories and know how AMCAT helped them get their dream job.