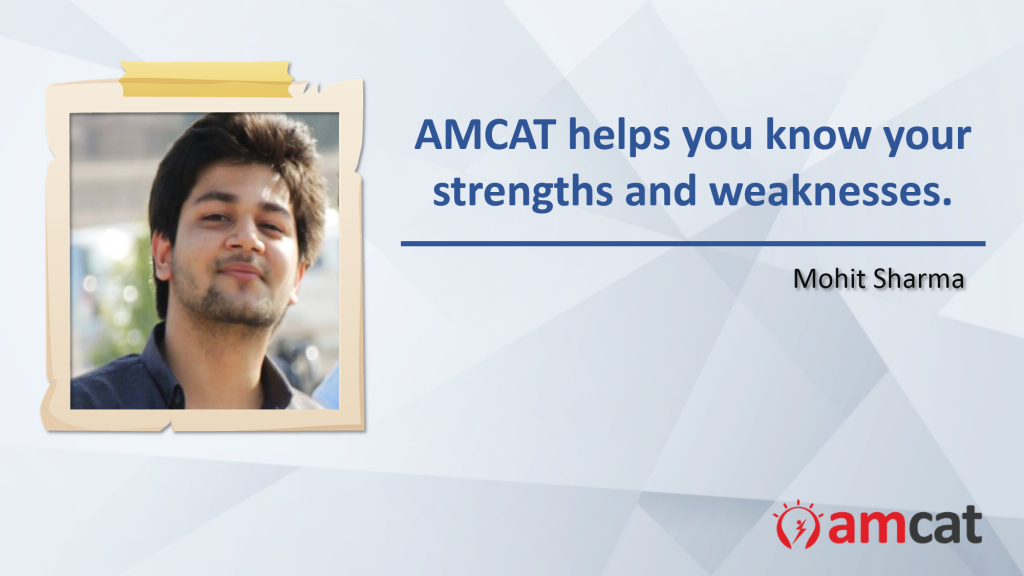 Meet Mohit Sharma, a fresh graduate from G.L Bajaj Institute of Technology & Management and know how he managed to kick-start his career in the IT industry straight out of college.
Q: Tell us something about yourself and your career goals.
My name is Mohit Sharma and I am currently working at Accenture as SAP Application developer. I did my B.Tech from G.L. Bajaj Institute of technology and management in Electronics and communication.
My goal is to advance in the technical career by dedicating myself to the organization of global repute which recognizes my true potential, hard work, and creativity.
Q: What difficulties did you face while searching for a job and how did you overcome those difficulties?
Nowadays, most of the companies look for individuals with some experience. Lack of experience is a problem that is faced by almost all freshers.  AMCAT solves that problem by connecting freshers and companies.
Q: How long did it take to get your 1st interview call after AMCAT?
It took almost three months but it worth the wait.

Q: Tell us about your experience post giving the AMCAT test and how AMCAT helped you in getting the job at Accenture?
AMCAT is a very balanced assessment test. It challenges an individual in almost every section. As a result, AMCAT provides very accurate statistics. AMCAT sends a detailed report after the test which highlights your strengths and weaknesses. And after working on my weaknesses, I got a job in my dream company i.e. 'Accenture'.
Q: How many interview calls did you get after taking the AMCAT?

I received almost 5 calls from reputed companies, and was able to crack the Accenture interview
Q: Would you suggest other job seekers to take AMCAT? If yes, why.
Yes, I strongly suggest people to take AMCAT because it provides great opportunities for job seekers. It acts as a bridge between employers and prospective employees.
Q: Would you like to share some tips which can help other job seekers in getting a good job?
Analyse the report which AMCAT sends post-test. It helps a lot. Stay focused and work on your core areas. While preparing for AMCAT, having a look at the syllabus and sample paper helps.
All the best!
Mohit is not the only one, read more of our success stories and know how AMCAT helped them get their dream job.