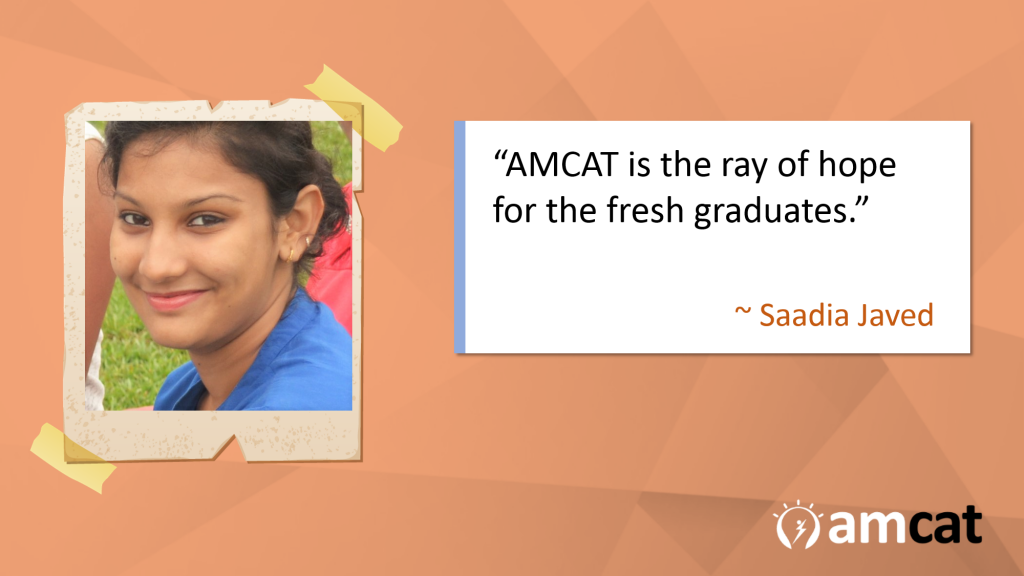 Meet Saadia Javed, a fresher from the Siliguri Institute of Technology and know how she managed to kick-start her career in the IT industry and nab an opening with Accenture.
Q: Tell us something about yourself and your career goals.
Hi, My name is Saadia. I am very passionate and dedicated towards my career. I come from a middle class family and unfortunately lost my father during my childhood. It was a very difficult phase for my mother. But, she tried her level best to give me the best education and facilities. And, thanks to her prayers and of-course AMCAT I got placed in Accenture. I am sure my father must be very proud of me wherever he is.
My goal is to reach the topmost position as a professional, from Associate software Engineer to maybe Vice President someday. I want to see myself at the top through my hard work and dedication. I would put all my efforts and sincerity to achieve my goals.
Q: What difficulties did you face while searching for a job and how did you overcome those difficulties?
I gave many interviews but something was not clicking. I was able to clear the aptitude round but was not getting shortlisted in the interview. I worked a lot on my attitude and communication skills to enhance my probability of getting selected.
Q: How long did it take to get your 1st interview call after AMCAT?
It took 3 months.
Q: Tell us about your experience post giving the AMCAT test and how AMCAT helped you in getting a job at Accenture?
A big 'Thank you' to AMCAT. I was very disheartened and upset as all my friends were getting placed except me. But then AMCAT happened and I got a wonderful opportunity to work with Accenture.
Q: Would you suggest the AMCAT to other job seekers? If yes, why.
Of course. AMCAT is the ray of hope for the fresh graduates. It helps them connect with the potential employers and have the job that they always wanted.
Q: Would you like to share some tips which can help other job seekers in getting a good job?
Saadia: Do not worry about the job, just prepare yourself well. Be confident and arm yourself with knowledge. You will kill it in the interview. Best of luck. 
Saadia is not the only one – read how many aspirants landed their dream jobs through the AMCAT job opportunities platform or built on their results to get them.