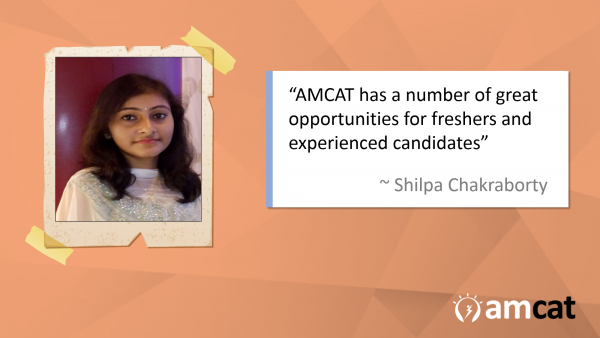 A good fresher job in a top-notch MNC right at the start of your career is what every fresh graduate dreams of. Let's hear how Shilpa, a fresher from Narula Institute of Technology managed to kick-start her career in the IT industry and nab an opening with Accenture.
Aspiring Minds: Tell us something about yourself and your career goals.
Shilpa: Hi, My name is Shilpa Chakraborty and have completed B.Tech in ECE from Narula Institute of Technology in 2016. My career goal is to work as a successful IT professional in a reputed MNC where I can learn and enhance my knowledge and skills.
Aspiring Minds: What difficulties did you face while searching for a job and how did you overcome those difficulties?
Shilpa: I was getting many job offers but they were not meeting my expectations and goals. Then, AMCAT happened and everything fell into place. I would like to thank AMCAT from the bottom of my heart.
Aspiring Minds: How long did it take to get your 1st interview call after AMCAT?
Shilpa: It took about a month to receive my 1st interview call from AMCAT.

Aspiring Minds: Tell us about your experience post giving the AMCAT test and how AMCAT helped you in getting the job at Accenture?
Shilpa: AMCAT is an amazing platform for freshers. It bridges the gap between the candidates and the employers. My experience was pleasant and the result was satisfactory. I received many interview calls from different organizations (start-ups and MNC's). I choose to join Accenture after clearing the interview rounds.
Aspiring Minds: Would you suggest other job seekers to take AMCAT? If yes, why.
Shilpa: Yes, I will definitely suggest other job seekers to take the AMCAT test. It has a number of good job opportunities for freshers as well as experienced candidates.
Aspiring Minds: Would you like to share some tips which can help other job seekers in getting a good job?
Shilpa: Every job seeker should appear for AMCAT assessment, score well and focus on improving your core and communication skills. BEST OF LUCK TO ALL.
Shilpa is not the only one – read how many aspirants landed their dream jobs through the AMCAT job opportunities platform or built on their results to get them.