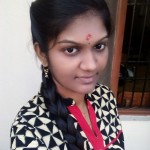 "AMCAT gave me entry into top MNCs.AMCAT is a good platform to get access to the top MNCs."
Deepika Senthil Kumar, Sri Muthukumaran Institute of Technology
Aspiring Minds: Tell us something about yourself and your career goals.
Deepika:  My name is Deepika. S. I am a 2015 graduate from Sri Muthukumaran Institute of Technology. I am passionate about my life and enjoy whatever I do. I also believe each day is special and unique.
Aspiring Minds: What difficulties did you face while searching for a job and how did you overcome those difficulties?

Deepika: As an engineering graduate we are less exposed to the real word scenario and the concepts which we study are mostly theoretical. Initially, it was quite hard to meet the industry's expectations.
Aspiring Minds: Tell us about your experience post giving the AMCAT test and how AMCAT helped you in getting the job at a software MNC?
Deepika: Before interviewing at a software MNC, I attended two to three interviews but thanks to team AMCAT, I did not have to look around much and got selected in a software MNC itself.
Aspiring Minds: Would you suggest other job seekers to take AMCAT? If yes, why

Deepika: Yes, AMCAT is a good platform to get access to the top MNCs.
Aspiring Minds: Would you like to share some tips which can help other job seekers in getting a good job?
Deepika:
Be confident and bold.
Keep a positive attitude and have a will to learn.
Be specific on your technical points.
Give crisp answers.