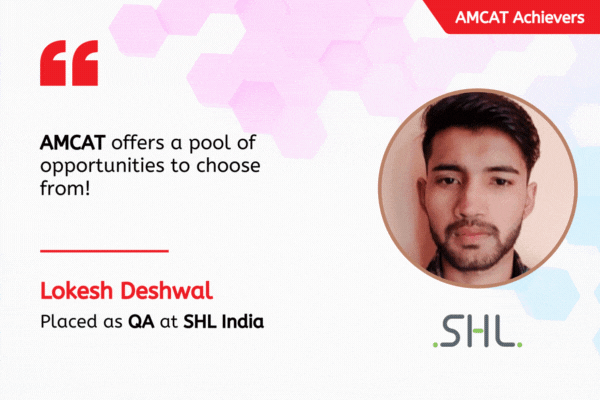 The most successful decision in my life has been giving the AMCAT exam since it helped me in understanding the best career path for me. The procedure helped me to get a fantastic job as a new graduate.
Do you want to know more about his journey? Continue reading to find out more about the same.
Lokesh, please explain why did you choose AMCAT?
"Lokesh told us that he opted for AMCAT for bigger brands, better salaries, relevant job profiles, and job location."
Tell us about your job role and the company where you got placed with the help of AMCAT?
"I got placed as QA in SHL India, told Lokesh."
How did AMCAT help you in getting this job?
"AMCAT offered a competitive environment with a lot of job opportunities to choose from, said Lokesh."
While looking for a job, what all difficulties did you face?
"Luckily, I did not face any difficulty during the entire process, said Lokesh."
Register for AMCAT | India's Leading Fresher's Assessment And Job Site (myamcat.com)
What role did the AMCAT feedback report play in the process?
"AMCAT feedback report assisted me in analyzing where I lack and then I worked on improving myself accordingly."
Do you think AMCAT is an ideal choice? If yes, why?
"Lokesh concluded, by telling us why he opted for AMCAT by giving the following reasons
AMCAT is one of the best platforms available right now and a large number of companies are doing their recruitment through it.
AMCAT is always thriving to get you your dream job and make your job search experience free from any challenge. Moreover, the job opportunities that you will get will are based upon your skills and readiness to face corporate challenges."
If you have any queries, feel free to get in touch with us now.
We Wish You All The Best For Your Future!