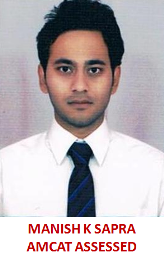 Aspiring Minds: Tell us something about yourself. How would you sum up your journey from college to Z.S Associates.
Manish: I graduated as a software engineer from Ansal Institute of Technology, G.G.S.I.P.U last year. The most interesting fact is that despite being a student from the first batch of the college, I have been able to get a wonderful opportunity to work as a Business Technology Associate with an organization like Z.S Associates – totally worth!
Aspiring Minds: When did you decide to appear for AMCAT. Did you prepare before you appeared for AMCAT?
Manish: We were in the final year of the college when we decided to appear for the test. They say it's toughest to get placed if you're from the first batch of the college and so getting a job wasn't a cake wake for me. I prepared myself for the aptitude tests, and it finally bore fruit – based on my AMCAT scores, I have received a number of opportunities through Aspiring Minds.
Aspiring Minds: Tell us about your interview experience.
Manish: Interview for Z.S Associates comprised of 3 rounds, as they tested each and every aspect of a candidate's personality. The first round was a written round which tested our logical and analytical skills. Second and the third round assessed us on the behavioral front. Each round was an elimination round. As far as interview is concerned, I did pretty well. I guess the fact that I already had a job in hand, it gave me an added confidence during the selection procedure.
Aspiring Minds: Any success tips you would like to share with AMCAT takers?
Manish: First, I would tell them to focus on the AMCAT sections – English, Quant, Logical & Technical section. Try to improve your scores and AMCAT feedback report would help you do the same! Secondly, corporates hire more than just a techie – they need candidates with good analytical and logical skills and those who communicate well.
Manish Kumar Sapra
Ansal Institute Of Technology, 2012 Batch
Hired by Z.S Associates
Click here to read Success stories of AMCAT takers! Read how more than 80,000 AMCAT-assessed candidates get interview calls each month: click here