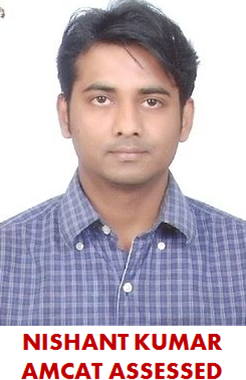 Aspiring Minds: Tell us something about yourself.
Nishant: I did my B.Tech in I.T from Ch. B. P. Govt. Engineering College, affiliated to Guru Gobind Singh Indraprastha University, Delhi. I passed out in 2012.
Aspiring Minds: When did you decide to appear for the test?
Nishant: It goes back to the final year when we were all waiting for the campus placements to happen. But to our disappointment, we didn't get enough assistance from our college in this regard. So I and my college friends went ahead and posted our resumes on job portals, this too didn't help much. Finally I decided to appear for AMCAT.

Aspiring Minds: Tell us something about the interview experience.
Nishant: The interview for indiamart.com went well, I'd appeared for a few interviews before and this too wasn't much different. I guess one needs to have confidence besides an ability to communicate effectively during an interview. But the happiest moment was when the company officials came out with the list of selected students – and there I could hear my name being called out. I quickly called my parents & shared the news with them.
Aspiring Minds: Any success tips you would like to share with the readers?
Nishant: Students must plan their course of action in advance. They shouldn't get disheartened if they do not get enough of job opportunities through their campus, or job portals. You too, like me, can rely on AMCAT. Moreover, you don't need to be a 100 percentiler to get a job, so don't miss out on this opportunity!
Nishant Kumar
Ch. B. P. Govt. Engineering College, 2012 Batch
Hired by IndiaMart.com

Click here to read Success stories of AMCAT takers! Read how more than 80,000 AMCAT-assessed candidates get interview calls each month: click here