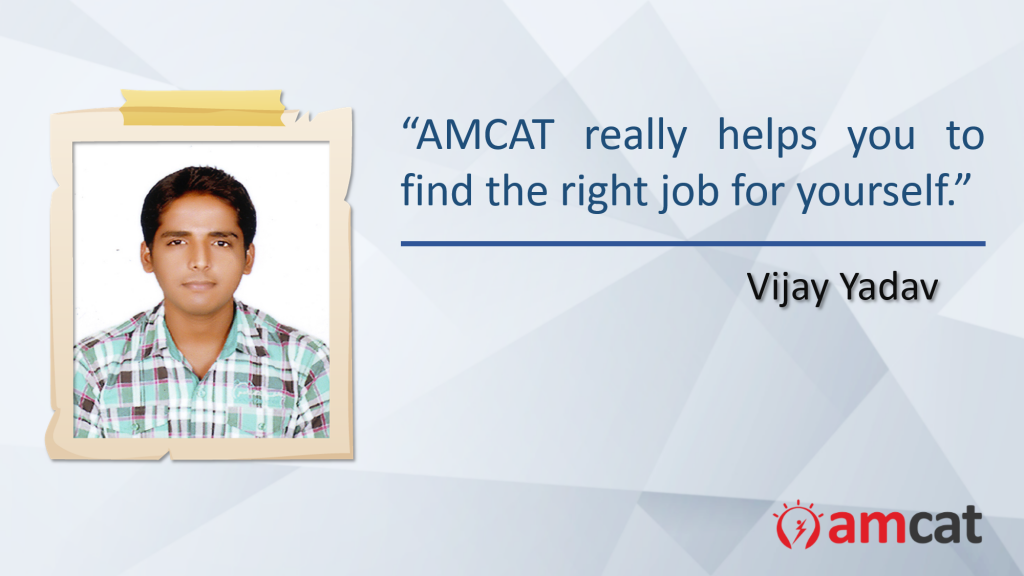 A good fresher job at the beginning of your career? Quite a deal, isn't it?
Meet Vijay Yadav from QIS college of Engineering & Technology and know how he managed to bag an opportunity with Accenture.
Q: Tell us something about yourself and your career goals.
My name is Vijay Kumar Yadav. I completed my B.Tech in Mechanical stream from QIS College of Engineering & Technology. My aim is to get the job in a renowned company.
Q: What difficulties did you face while searching for a job and how did you overcome those difficulties?
I got selected in 2 On-campus interviews conducted in our college and I was so happy as both jobs were related to my core group -mechanical. But due to some problems at company's end, I had no job in hand. I came to Hyderabad & started searching for jobs and then came to know about AMCAT which helped me get a job at Accenture.
Q: Tell us about your experience post giving the AMCAT test and how AMCAT helped you in getting the job at Accenture?
I took AMCAT when I was in final year. I got few interview calls including CTS before I got interview call from Accenture. AMCAT really helps you to find the right job for yourself. Because of AMCAT and my hard work, I got selected in Accenture.

Q: Would you suggest other job seekers to take AMCAT? If yes, why
Yes. I would suggest all job seekers to take AMCAT & prepare well for AMCAT. Get a good score in AMCAT & get your dream job.
Q: Would you like to share some tips which can help other job seekers in getting a good job?

Prepare well for AMCAT. Take the test and start applying for companies.
Want to kickstart your career in a right way? Take AMCAT and get a step closer to your dream job!