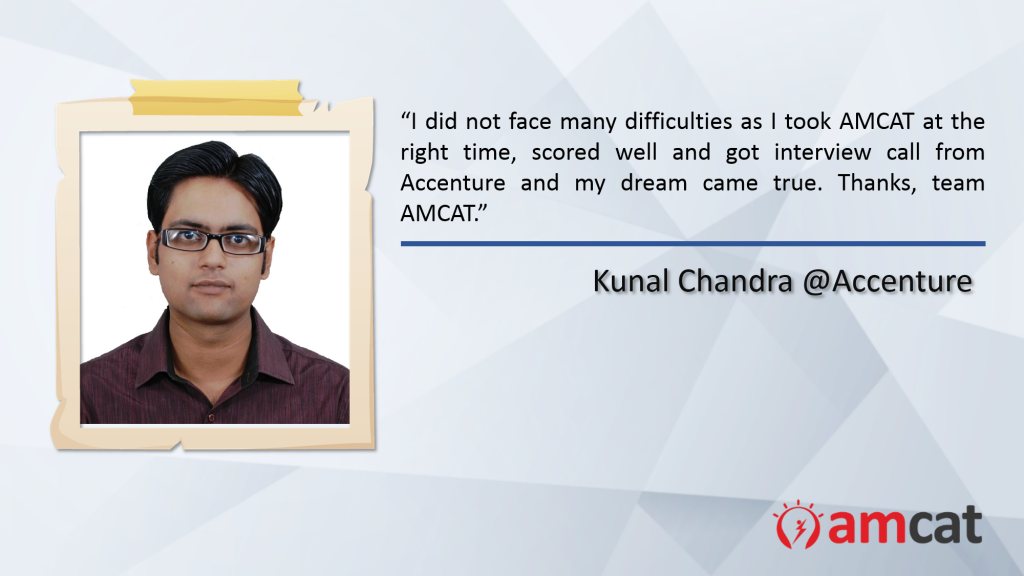 AMCAT is not just an exam it's a great platform where you get answers to questions like "what companies are looking for?" or "What one should be focusing on to get a job?" or "What areas you should work on to make your chances brighter?"
Accenture came to me through AMCAT.  I believe, hadn't I sat for AMCAT, I would not have been writing this testimonial. I highly recommend it to all serious job aspirants -Kunal Chandra, Synergy Institute of Engineering & Technology
Q: Tell us something about yourself and your career goals.
My name is Kunal Chandra. I want a good career growth through a continuous learning process and keep myself dynamic, visionary and competitive with the changing scenario of the world.
Q: What difficulties did you face while searching for a job and how did you overcome those difficulties?
I did not face many difficulties as I took AMCAT at the right time, scored well and got interview call from Accenture and my dream came true. Thanks, team AMCAT.
Q: Tell us about your experience post giving the AMCAT test and how AMCAT helped you in getting the job at Accenture?
It was a great experience and I also found the areas where I need to improve. It's all because of AMCAT I got a chance to work for my dream company. Without AMCAT it was not possible for me to appear.

Q: Would you suggest other job seekers to take AMCAT? If yes, why
Yes, AMCAT provides fair and equal opportunity to all the candidates without any biasness.
Q: Would you like to share some tips which can help other job seekers in getting a good job?

Work hard and be strong on your basics. The company looks for people who are smart and confident about themselves. Just relax and be stressfree. All the best!
Want to kickstart your career in a right way? Take AMCAT and get a step closer to your dream job!