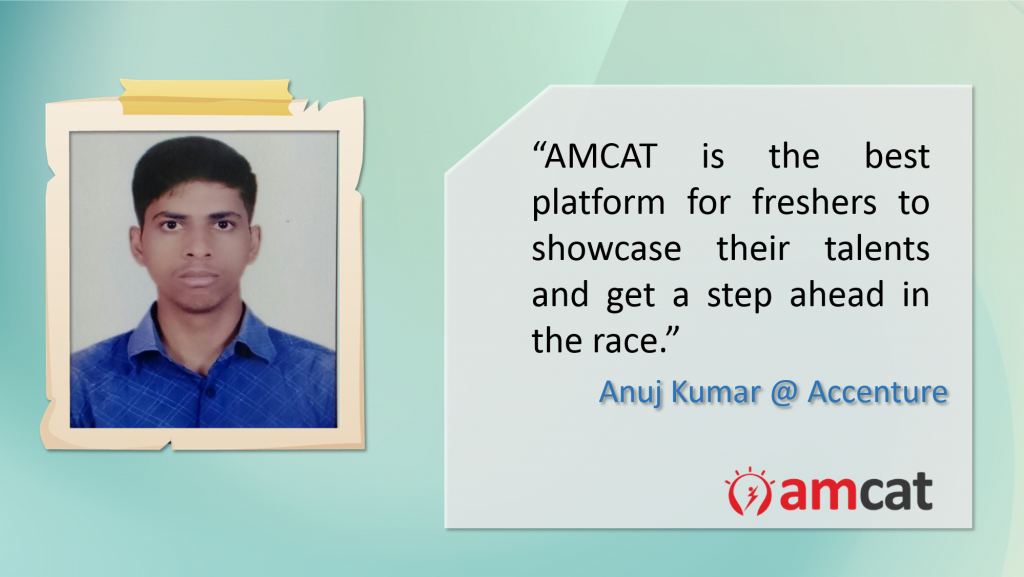 Meet Anuj Kumar, a fresh graduate from the Kalinga Institute of Industrial Technology and know how he managed to bag a job at Accenture straight out of college.
Q: Tell us something about yourself and your career goals.

My name is Anuj Kumar. I have done Mechanical Engineering in 2016. I want to be a software testing engineer.
Q:  What difficulties did you face while searching for a job and how did you overcome those difficulties?

I faced a lot of problems. As I am from Mechanical so it was very difficult for me to get the right opportunity. Hence, I took AMCAT and it helped me get an interview with Accenture. I am really thankful to AMCAT.
Q:  How long did it take to get your 1st interview call after AMCAT?
Within 1 month.
Q: Tell us about your experience post giving the AMCAT test and how AMCAT helped you in getting the job at Accenture?

AMCAT is an easy way to get a job in an MNC. Searching a job and getting an interview is very difficult for freshers. AMCAT is the easiest way to get a step closer to your dream job.
Q: How many interview calls did you get after taking the AMCAT?

Accenture was my 1st interview call and thankfully I was able to convert it.
Q: Would you suggest other job seekers to take AMCAT? If yes, why.

Definitely. AMCAT is the best platform for freshers to showcase their talents and get a step ahead in the race.
Q: Would you like to share some tips which can help other job seekers in getting a good job?

Just one tip. Be confident at the time of interview. And believe in yourself.
Does your college hold AMCAT test? If not, you can always do one online and get a step closer to your dream job.