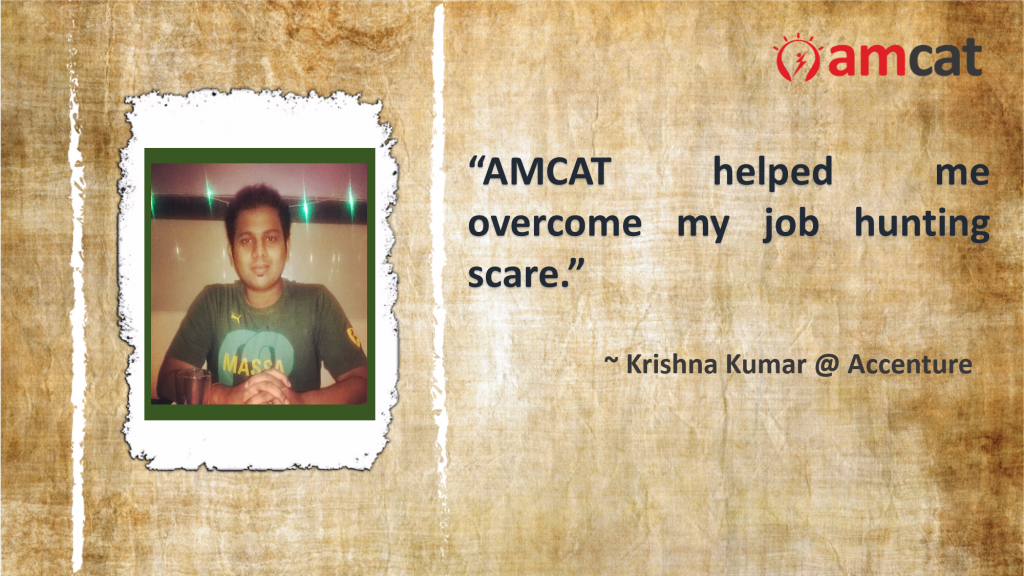 Getting a good fresher job at the beginning of your career. Quite a deal. Isn't it?
Meet Krishna Kumar from Joginpally B R Engineering College and know how he managed to kickstart his career by bagging a job at Accenture.
Q: Tell us something about yourself and your career goals.
Hi, my name is Krishna Kumar and I have done B.Tech in Computer Science from JB Institute of Engineering & Technology. I always wanted to make a career in the software industry. Thanks to the team AMCAT for giving me the opportunity to appear for Accenture's interview. As far as my short term goal is concerned, it is to acquire new technical skills at work and strengthen my existing ones so that I become technically sound to be able to lead a project team confidently in the next 5 years.
Q: What difficulties did you face while searching for a job and how did you overcome those difficulties?
Unfortunately, no big companies visited our college for the placement. That was a real blow. As a result, I wasted my 6 months after the graduation just by dropping my resume at drop boxes in a few companies with the hope of getting an interview call soon, uploading my resume on various career portals, etc. but only AMCAT came to my rescue.
Q: Tell us about your experience post giving the AMCAT test and how AMCAT helped you in getting the job at Accenture?
I enjoyed taking AMCAT test which went on smoothly without any glitches. After taking the test I received my performance report with sectional percentile scores. My strengths & my weaknesses highlighted & most importantly tips/reference material to overcome that weakness. Fortunately, I scored well to get myself a couple of interview calls of top IT companies through AMCAT which were well organized & the rest is history !!!

Q: Would you suggest other job seekers to take AMCAT? If yes, why
Absolutely!!! I would recommend freshers seeking jobs in good companies to take AMCAT & more importantly score well which in turn could fetch you the all-important interview calls.
Q: Would you like to share some tips which can help other job seekers in getting a good job?

Prepare well for the interview and give your best. Best of Luck.
Want to kickstart your career in a right way? Take AMCAT and get a step closer to your dream job!