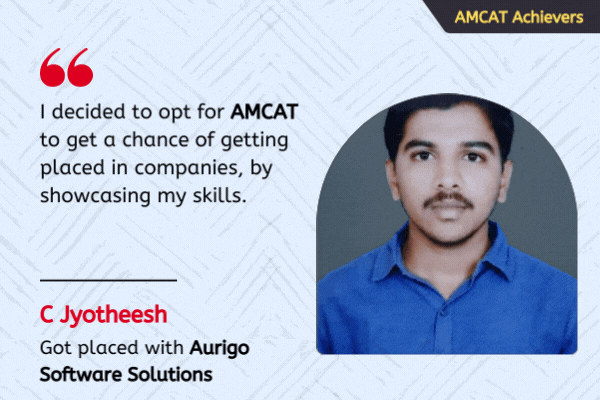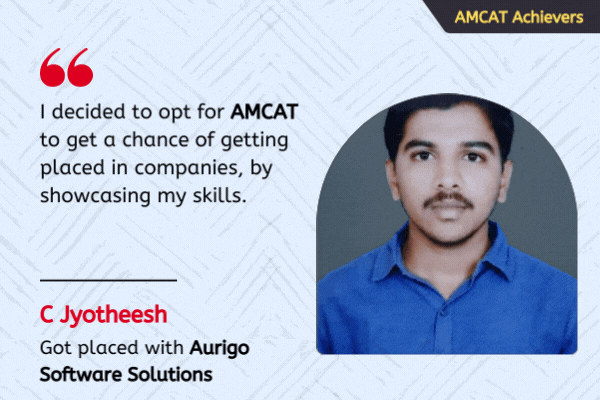 Finding a suitable job, right after graduation is the toughest thing for a fresher. C Jyotheesh one of our candidates, shares his journey with us, right from facing difficulties during the process to getting a suitable job opportunity he shares his entire story with us. If you want to know more about it, you can read below.
Why did you opt for AMCAT?
Jyotheesh told us that he opted for AMCAT, to get a chance of getting placed in companies by showing them the skills I have.
While looking for a job, did you face any difficulties? Please elaborate.
"Yes, since getting an opportunity is the toughest thing for a fresher. In the same way, I also faced many difficulties while looking for jobs. I applied for multiple companies and most of them said your profile is not suitable for our role. I never felt low and kept improving my skills and got an opportunity through AMCAT finally and got placed with a good package."
Tell us about the job you got through AMCAT?
"I got placed as a software developer intern at Aurigo Software Solutions. It's a good opportunity and a good place for me as a fresher to start my career. I got some other opportunities also through AMCAT," claimed Jyotheesh.
How did the AMCAT feedback report help you in the entire process?
"AMCAT feedback report showed me where I'm lacking behind and where I'm doing good, so I concentrated on my weak spots and started learning things which helped me getting better."
Would you recommend AMCAT to others?
"Yes, I'll definitely recommend AMCAT to others", concluded Jyotheesh.
If in case you have any queries, feel free to get in touch with us.
Our best wishes to him for his future endeavors.