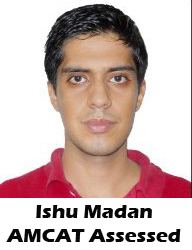 Aspiring Minds: Tell us something about yourself and your career goals.
Ishu: My name is Ishu Madan and I'm from Dehradun. I completed my B. Tech from College of Engineering Roorkee in 2013. I am very passionate about things related to my branch and I like learning as much as I can. My career goal is to become a successful software engineer, and having enough knowledge to face any type of challenges in my field.
Aspiring Minds: What difficulties did you face while searching for a job and how did you overcame those difficulties?
Ishu: Finding a job off campus is very difficult. There are websites where we post our resume for free and they give notifications about job openings. But there is one in a million chance to be called from there. I also tried the classified newspaper ads but same was the case there too. I was just in a crowd of thousands. Then I learned about website like AMCAT, where our profile is distinct from others according to the marks we score in aptitude tests
Aspiring Minds: Tell us about your experience post giving the AMCAT test and how AMCAT helped you in getting the job at Josh Technology Group?
Ishu: I was happy after giving my AMCAT test. The marks I scored were not bad. Then I had to apply for the jobs there and wait for the result. One day I got a mail from Aspiring Minds, saying that I have been shortlisted for recruitment procedure by Josh Technology Group, a startup company that gives a decent package. Through this I appeared for the tests and interviews, and thus I got selected here.
Aspiring Minds: Would you suggest other job seekers to take AMCAT? If yes, why
Ishu: Yes, I definitely suggest job seekers to take AMCAT. As I have told before while going for off campus placements, we are amongst thousands or lakhs of other candidates who need a job as desperately as we do. But AMCAT gives us the means to find a place that suits our capabilities.
Aspiring Minds: Would you like to share some tips which can help other job seekers in getting a good job?
Ishu: I would like to say that job seekers should work on their aptitude. There is one way of doing things which involves just going by the traditional methods. Another way is to deviate away from the methods, and discover our own. I want to recommend the second method for everyone. It will make you think freely. And one should know the reason behind all concepts. All this will help you in having strong aptitude. Besides aptitude, you should have your technical knowledge on your finger tips, at least the basics. Concentrate more on strengthening the basics and you will have no difficulty in learning further concepts. So concentrate on both. While aptitude gives us the ability to think, technical part gives us knowledge, both of which are crucial factors for becoming a good engineer.

Ishu Madan, College of Engg – Roorkee, 2013 Batch
Hired by Josh Technology Group