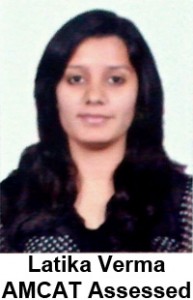 Aspiring Minds: Tell us something about yourself and your career goals.
Latika: First of all, I would like to thank AMCAT for supporting me in getting this job. I am a final year student from Trinity Institute of Professional Studies, Dwarka. My primary goal is to be an engineer and I have successfully achieved it and now my goal is to be a part of organization which gives me opportunity to attain knowledge, help me to be a successful person and a good professional.
Aspiring Minds: What difficulties did you face while searching for a job and how did you overcame those difficulties?
Latika: There were very less opportunities in campus recruitment and seeking for a desired job is a great problem to face in today's life. But that problem got solved by taking AMCAT assessment exam.
Aspiring Minds: Tell us about your experience post giving the AMCAT test and how AMCAT helped you in getting the job at HCL Tech-ISD?
Latika: Before AMCAT I was tense regarding my career because there were very few companies coming for campus recruitment but after giving AMCAT I got many opportunities to fulfill my dream and finally I got a job in HCL Tech-ISD.
Aspiring Minds: Would you suggest other job seekers to take AMCAT? If yes, why
Latika: AMCAT will provide many chances to a fresher to start his/her career and number of opportunities will be much larger as compared to campus recruitment. If someone really deserves than that person would definitely get a job through AMCAT. So, I would definitely suggest everyone to take AMCAT.
Aspiring Minds: Would you like to share some tips which can help other job seekers in getting a good job?
Latika: Just be confident and honest about yourself. Don't be nervous, as they are looking forward for loyal and confident people who can be trained easily. All the very best 🙂
Latika Verma, Trinity Institute of Professional Studies Delhi, 2013 Batch
Hired by HCL Tech-ISD
Visit www.myamcat.com to register for FREE