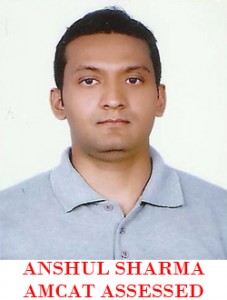 Aspiring Minds: Tell us something about yourself and your career goals.
Anshul: I am Anshul Sharma. I am in the final year of my B.Tech (CSE) from ABES-EC, GBTU, Ghaziabad. I want to be an astute learner and the best performer in an organization so that I can build an innovative career.
Aspiring Minds: What difficulties did you face while searching for a job and how did you overcame those difficulties
Anshul: In the present scenario it is really difficult to get a job because of lack of placement opportunities from college and so much competition that is out there. Prepare well and give assessment tests like AMCAT.
Aspiring Minds: Tell us about your experience post giving the AMCAT test and how AMCAT helped you in getting the job at Torrid Networks?
Anshul: It was really good than what I expected and results came very early. In the end, what matters the most, I got the job in Torrid Networks.
Aspiring Minds: Would you suggest other job seekers to take AMCAT? If yes, why
Anshul: Yes definitely, it shows your capabilities and where you stand in the present competition. AMCAT also provides good job opportunities suiting your profile.
Aspiring Minds: Would you like to share some tips which can help other job seekers in getting a good job?
Anshul: Be honest, with whatever you say don't brag about anything, write only those things in your resume that you know very well.
Anshul Sharma, ABES Engineering College, Ghaziabad, 2013 batch.
Hired by Torrid Networks
Visit www.myamcat.com to register for FREE