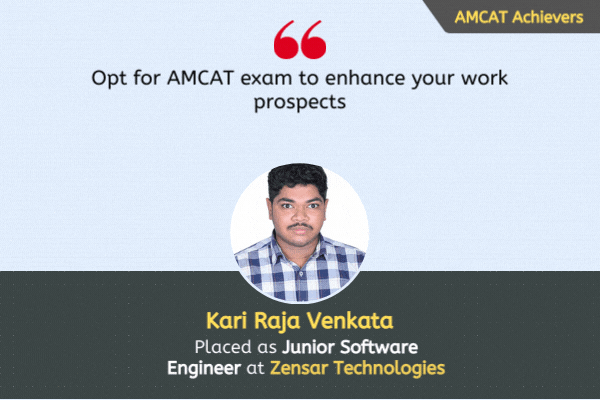 The AMCAT exam makes it seem like getting a job is simple. Are you curious as to why the AMCAT exam is so popular? Read Kari's success story to learn the answers to these questions. He said that passing the AMCAT exam can make one's professional life easier, especially if one is a recent graduate looking for job and is not sure which industry or career to follow. Would you like to learn more about? Then keep reading to find out more.
Kari, why did you opt for AMCAT?
Kari told us that he opted for AMCAT, for various job opportunities.
Did you encounter any obstacles while hunting for work? Please explain
"I did not face any difficulty during the process. The AMCAT platform provides an opportunity to find suitable job, told Kari."
Tell us about the job you got through AMCAT?
"I had received offer from the first company itself where I had applied through AMCAT, and I got placed as Junior Software Engineer in Zensar, said Kari."
Would you recommend AMCAT to others?
"Yes, I'll definitely recommend to others."
Why do you think AMCAT is a good pick?
"AMCAT is a great platform if you are looking for suitable job opportunities," concluded Kari.
If you have any queries, feel free to get in touch with us.
We Wish You All The Best!