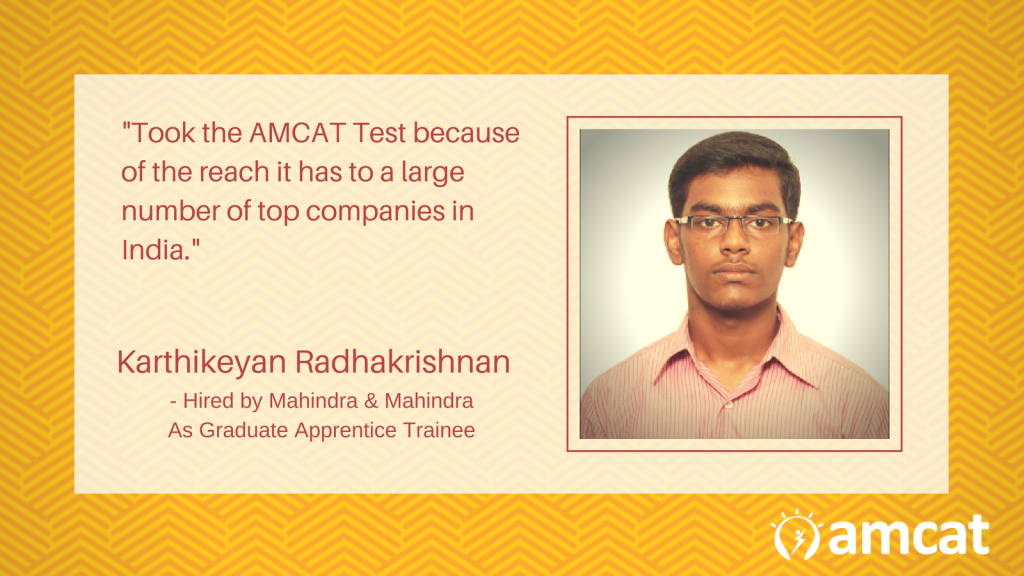 Often, we are asked about the availability of core engineering jobs through the AMCAT test – with many believing that it is an opportunity chiefly for IT jobs. The best answer to these questions is the example of Karthikeyan Radhakrishnan – a mechatronics engineer, who found such a position, in his new Mahindra & Mahindra job.
Taking the AMCAT Test for scoring maximum opportunities, Karthikeyan, a 2017 engineering graduate is now an apprentice trainee at the automobile major.
"I had an awesome test experience."
Radhakrishnan said, " (The AMCAT Test) is different from other tests provide you a choice to select a subject related to your area of study."
And it worked well for him. After his scores were listed, he received a number of calls. "I got a large number of emails – majorly from IT companies. Then, at last, I got placed in Mahindra."
Job Interview experience:
The call led to a telephonic interview round with Mahindra & Mahindra. "The telephonic round comprises of both technical and HR questions", he mused, highlighting the importance of the thing he had done before the interview round.
Krishnan had gone to the Mahindra job interview, fully prepared. In fact, he cites this as a learning for anyone on their own job search arcs and facing the interview round.
He said, "Prepare well before the interview. Constantly update your knowledge in your area of studies and other domains also and be relax at the time of interview."
Looking back at the AMCAT experience, Radhakrishnan, who is slated to join his apprentice job at Mahindra & Mahindra is glad he took the test. So much, that he recommends it to everyone.
"Yes, I would surely recommend AMCAT to others as it provides you with a good number of job opportunities in reputed companies."
Congratulations, Radhakrishnan for making it to your dream beginning at Mahindra & Mahindra. We hope this core engineering job works well for you.
Looking for one yourself? Consider the AMCAT Test today and begin preparing with different engineering modules.