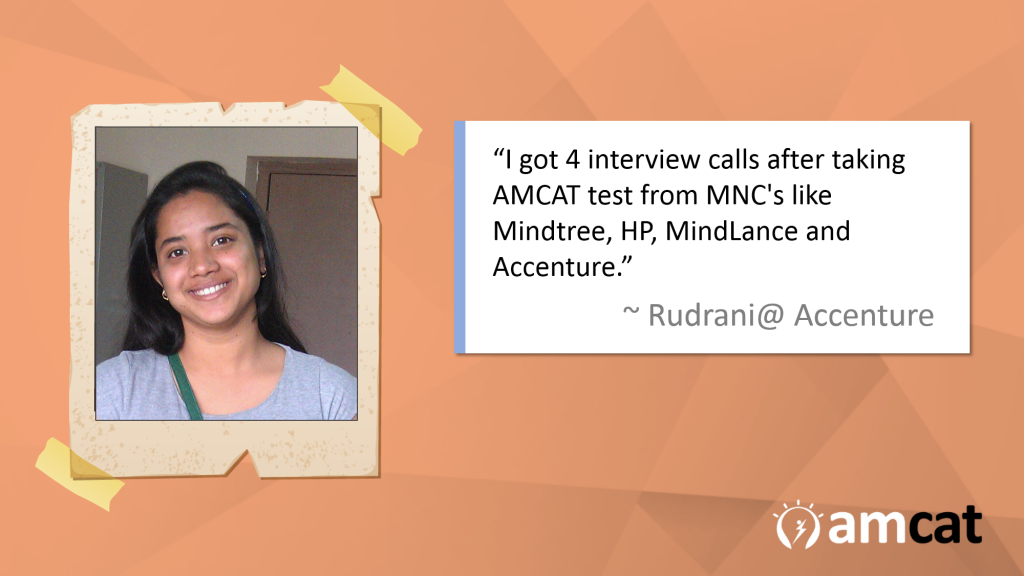 Getting a good fresher job at the beginning of your career seems quite difficult. Isn't it?
Meet Rudrani Pattnaik from C. V. Raman College of Engineering and know how she managed to kickstart her career in this tough job market.
Q: Tell us something about yourself and your career goals.
My name is Rudrani and I am from Odisha. I completed my B.Tech in 2016 and my career goal is to learn and to be skilled in an IT sector to the finest level.
Q: What difficulties did you face while searching for a job and how did you overcome those difficulties?
I failed miserably in the campus placements because of which I didn't get any job offer. I started looking for job outside and it was very tiresome and irritating. I came to know about AMCAT, gave the test, scored well and got a job. Thanks team AMCAT.
Q: How long did it take to get your 1st interview call after AMCAT?
It took 2 months to get my 1st interview call after taking AMCAT.

Q: Tell us about your experience post giving the AMCAT test and how AMCAT helped you in getting the job at Accenture?
I prepared well for the test and got a good score. In some days I got an interview call for Accenture and successfully converted it.
Q: How many interview calls did you get after taking the AMCAT?

I got 4 interview calls after taking AMCAT test from MNC's like Mindtree, HP, MindLance and Accenture.
Q: Would you suggest other job seekers to take AMCAT? If yes, why.
Yes, I would like to suggest the other job seekers to take the test because in India AMCAT is the best platform for freshers.
Q: Would you like to share some tips which can help other job seekers in getting a good job?
Never loose your focus. Be confident and sure about yourself. All the best!
Do you feel ready to give it a try? Then schedule an AMCAT test today.