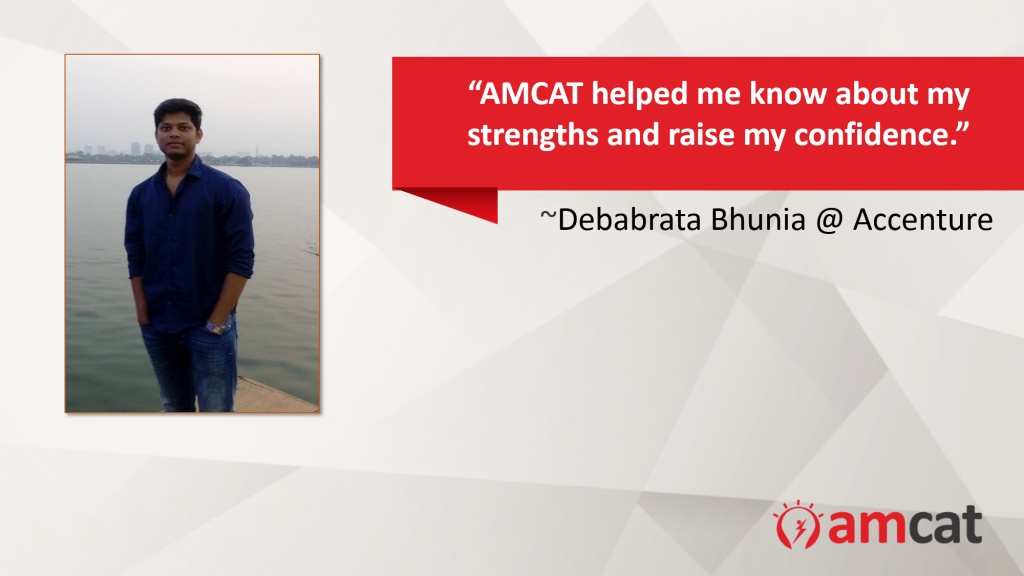 Getting a good fresher job at the beginning of your career seems quite difficult. Isn't it?
Meet Debabrata Bhunia, Kalinga Institute of Industrial Technology and know how she managed to kickstart her career in this tough job market.
Q: Tell us something about yourself and your career goals.
My name is Debabrata Bhunia. I am from West Bengal. I completed Engineering in civil branch. My career goal is to get a good job in a reputed company.
Q: What difficulties did you face while searching for a job and how did you overcome those difficulties?
I didn't face many problems because I took AMCAT test at the right time. Actually, it works and I got placed at Accenture.
Q: How long did it take to get your 1st interview call after AMCAT?
It took only 2 days to get my 1st interview call after taking AMCAT.

Q: Tell us about your experience post giving the AMCAT test and how AMCAT helped you in getting the job at Accenture?
It was a wonderful experience. I scored well in AMCAT test and after 2 days I got interview call from Accenture. It was not possible without AMCAT. Thanks AMCAT.
Q: How many interview calls did you get after taking the AMCAT?

Many calls.
Q: Would you suggest other job seekers to take AMCAT? If yes, why.
Yes of course. To get the job in a reputed company, fresher should take AMCAT.
Q: Would you like to share some tips which can help other job seekers in getting a good job?
I would like to suggest that everyone should take the AMCAT test. All the best guys!!
Do you feel ready to give it a try? Then schedule an AMCAT test today.