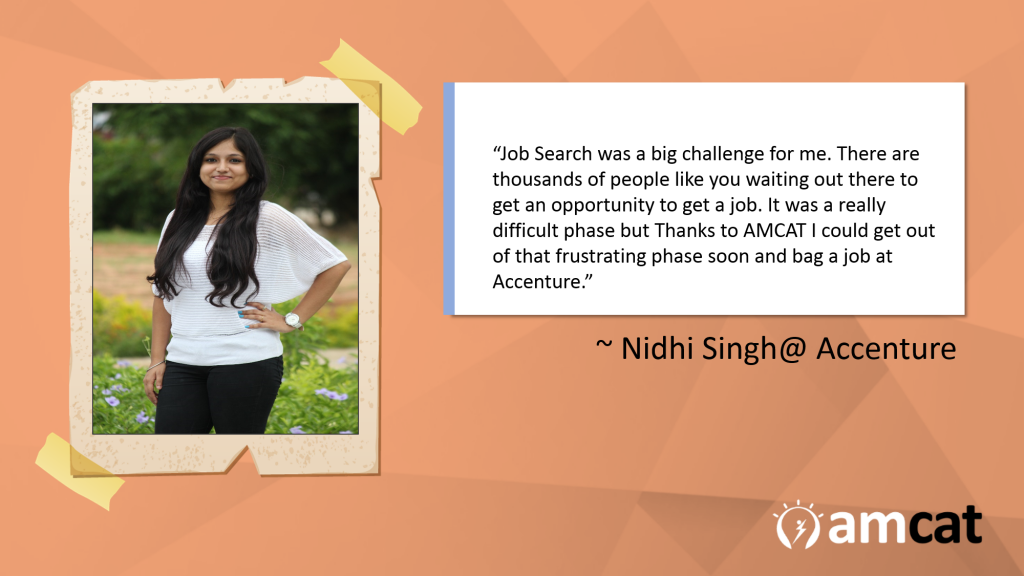 "Job Search was a big challenge for me. There are thousands of people like you waiting out there to get an opportunity to get a job. It was a really difficult phase but Thanks to AMCAT I could get out of that frustrating phase soon and bag a job at Accenture." says Nidhi Singh from Bapuji Institute of Engineering & Technology.
Q: Tell us something about yourself and your career goals.
My name is Nidhi. I have done B.Tech in Information Science and Technology. I want to work in a software field which would help me to get an exposure of my knowledge and technical skills as well.
Q: What difficulties did you face while searching for a job and how did you overcome those difficulties?
First of all, I didn't get a chance to get placed in any of the on-campus drives. So searching a job as a fresher outside itself was a big challenge. There are thousands of people like you waiting out there to get an opportunity to get a job. I started believing in myself and started preparing for AMCAT and started attending other off campus drives as well.
Q: How long did it take to get your 1st interview call after AMCAT?
I took AMCAT exam in early September and got the first call through AMCAT in November.

Q: Tell us about your experience post giving the AMCAT test and how AMCAT helped you in getting the job at Accenture?
After taking AMCAT I had to wait for receiving calls through the AMCAT, initially, it took time but you will definitely get calls if you are eligible and get shortlisted. AMCAT provided me with the opportunity to apply for one of the greatest MNC like Accenture which is a dream company for many students including me.
Q: How many interview calls did you get after taking the AMCAT?

I got 4-5 interview calls after taking up the AMCAT exam
Q: Would you suggest other job seekers to take AMCAT? If yes, why.
Yes, I would suggest you should take AMCAT, it provides you with an opportunity to apply with many good companies available in AMCAT portal.
Q: Would you like to share some tips which can help other job seekers in getting a good job?

First of all, find which part you are lagging in, then work on that part, practice more and always believe in yourself you will definitely get through this.
Have you taken the test till now? No? Take one today!