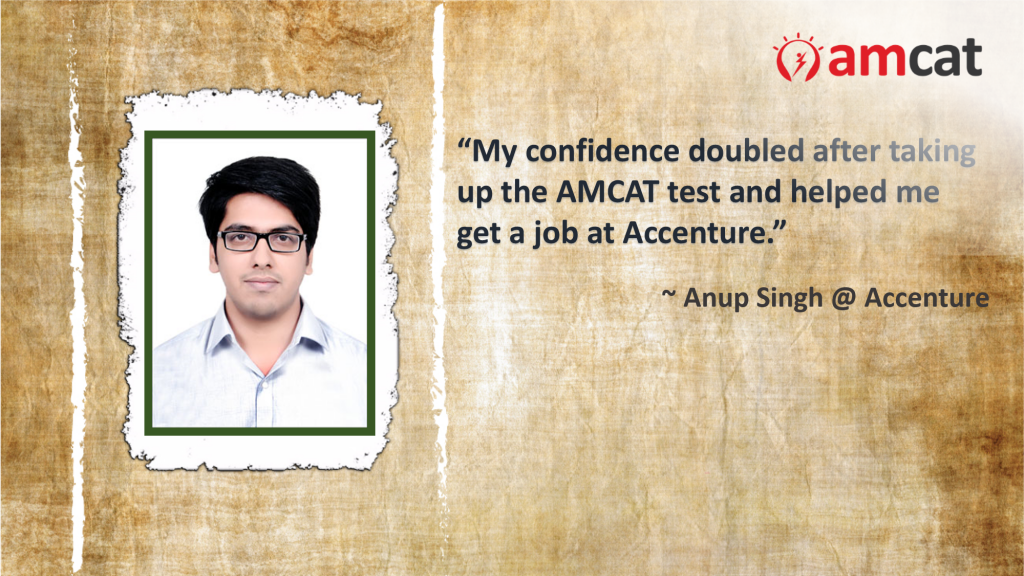 'My confidence doubled after taking up the AMCAT test', says AMCAT achiever Anup Singh, a graduate from Asansol Engineering College who is hired by Accenture based on his good AMCAT scores.
Q: Tell us something about yourself and your career goals.
My name is Anup and I have done MCA. I am an enthusiastic person who is always eager to learn and implement new technologies. My goal is to have a successful career in information technology, where I can update myself and guide others.
Q: What difficulties did you face while searching for a job and how did you overcome those difficulties?
Job search was the biggest hurdle for me but Thanks to AMCAT everything became so smooth. My confidence doubled after taking up the AMCAT test.
Q: How long did it take to get your 1st interview call after AMCAT?
Within 10-15 days.

Q: Tell us about your experience post giving the AMCAT test and how AMCAT helped you in getting the job at Accenture?
AMCAT helped me a lot, as preparing for AMCAT strengthened my basic skills, which helped me during interviews. It was due to AMCAT that I made it in Accenture.
Q: How many interview calls did you get after taking the AMCAT?

4-5 interview calls.
Q: Would you suggest other job seekers to take AMCAT? If yes, why.
Yes obviously, AMCAT provides a platform for the job seekers, to achieve what they want. AMCAT is the path which leads to success.
Q: Would you like to share some tips which can help other job seekers in getting a good job?
Stay focussed, have patience and focus on basic skills, keep revising.
Anup's story is one of the many which come back to us from students who made it big, courtesy the AMCAT test. We invite you to read up on more of these stories in our achievers' diary section. And if you're keen, then consider registering for the AMCAT and scheduling an AMCAT test, soon.