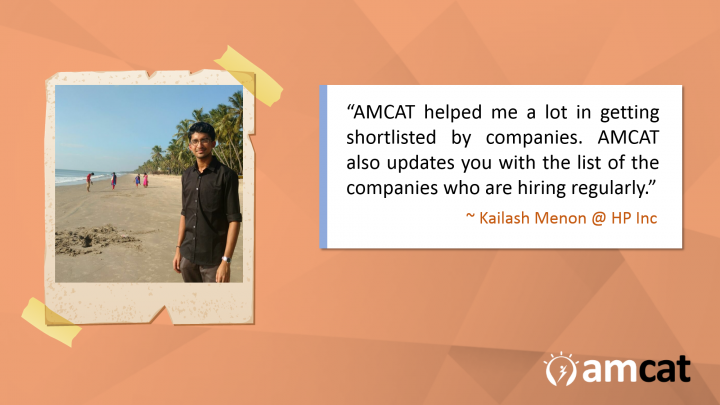 Isn't it tough to get a good fresher job right at the start of your career?
Hear out what Kailash Nath Menon from Vidya Academy of Science has to say about his job hunting journey and how the AMCAT test has helped him bag a job at HP Inc.
Q: Tell us something about yourself and your career goals.
My name is Kailash. I'm currently doing B.Tech from Vidya Academy of Science and Technology. At present, my goal is to do my job with the passionately and learn and grow.
Q: What difficulties did you face while searching for a job and how did you overcome those difficulties?
I had quite a few backlogs due to which I wasn't able to sit for several companies. I wouldn't pass the initial screening of many companies. I decided to be on the lookout for companies that weighed more on other skills than my cgpa in the beginning. Then, I took AMCAT and miracle happened. I got shortlisted for HP Inc.by AMCAT.
Q: How long did it take to get your 1st interview call after AMCAT?
I guess my first shortlisting took place after only a month.

Q: Tell us about your experience post giving the AMCAT test and how AMCAT helped you in getting the job at HP Inc?
I got good marks in English and communication skills. That helped me a lot in getting shortlisted by companies. AMCAT also updates you with the list of the companies who are hiring regularly.
Q: How many interview calls did you get after taking the AMCAT?

Around 3 or 4 calls.
Q: Would you suggest other job seekers to take AMCAT? If yes, why.
Yes definitely. AMCAT is an intelligent adaptive test and is near accurate regarding where our best skills really lie. Therefore choosing jobs through AMCAT based on our best scores will result in many interview calls.
Q: Would you like to share some tips which can help other job seekers in getting a good job?
The first step – Take AMCAT. Work on your communication and technical skills. Do not overlook communication skills as it is the real key to passing most interviews. Work hard and you'll rock it. All the best.
Want to kickstart your career in a right way? Take the AMCAT test and get a step closer to your dream job!