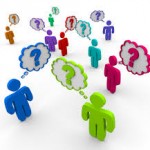 Giving the perfect interview is never an easy task but often students end up asking the wrong questions. These can very easily ruin all your hard work and preparation. We recently did a post on questions you should not ask your interviewer, but it is also important to ask questions. Regardless of you being an extrovert or introvert, there are a variety of questions you can ask in your next interview. Make sure you are comfortable and confident asking them or otherwise your interview could very quickly turn to an awkward one. We have a list of questions you can definitely go ahead and ask your interviewer –
1. Can you share some information on the general culture of the company and the workplace?
2. Will there be any kind of training for the role/profile provided?
3. Can you describe the key responsibilities of this position?
4. What process will be used to evaluate my employee performance?
5. Will there be any opportunity for travel in my profile?
6. Are there opportunities available for professional development within the company?
7. What is the usual time frame for making the hiring decision?
8. May I contact you if any further questions arise?
Apart from these questions, be ready with a set of things you would want to ask on your own which may be specific to you role. Prepare them beforehand so you are confident about them. You are not simply trying to get this job – you are also interviewing the employer to check whether this company and the position are the right for you.
Asking these will be a good way to dig into the company culture and the specific day-to-day responsibilities of the position. This will also ensure that the first week into your job won't be accompanied by any major surprises.