Off-campus placements may leave students in a tricky situation. Since such kind of job selection process employs zero aid from the college. Therefore, many aspirants feel lost about the application process for the various role through off-campus placement mode.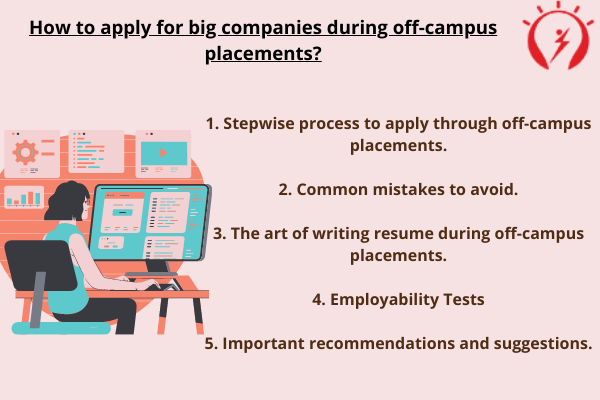 Quite often, students are engulfed in the notion that they have a limited chance to get into big companies. The reason being either a modest college background or the qualification. Another misconception, one gets entangles in is that big company only hire through on-campus placements. Undeniably it is true. However, that is not the only way. There are many other selection modes.
Thus, it is imperative to understand that companies are gauging skillsets and knowledge above anything else.
Therefore, don't fall into the trap of thinking that applying for big companies is next to impossible through off-campus placements. This mode of job searching may seem tiring in the first place. Especially, for the freshers, it appears to be an untold path. But all it takes is the right strategy and guidance. So here is a comprehensive guide for you to make the best out of off-campus placements. Scroll down below to know in detail.
Steps to apply for big companies during off-campus placements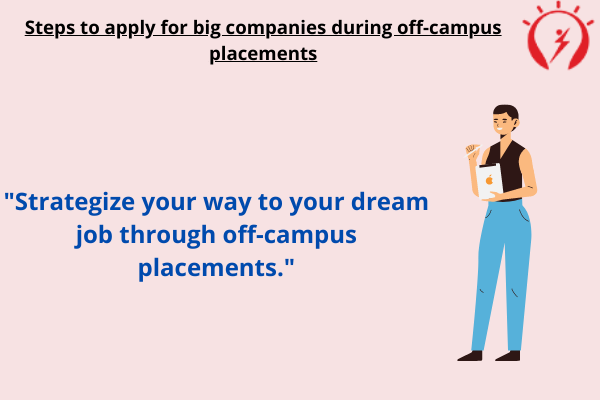 The job search may be a strenuous affair if the goal is not defined. But by involving a stepwise procedure to apply for off-campus placements can ease out the process. Here is a quick guide of the same:-
1. Define your goal and apply accordingly- It would be a delaying process if a person proficient in writing starts applying for engineering roles. Isn't it a contrasting reality? Therefore, students must have a defined goal so that they can filter jobs according to their competence.
2. Every big company has a career page on its website. You must regularly visit the site to track suitable opportunities. Also, you can drop your resume on its standard platform. Therefore, whenever there is an urgent requirement, your name will at least be in their records.
Note. You may also get in touch with the HR of the company. However, it may be a tedious process because usually, the talent acquisition team remotely accessible. In such a situation, getting a referral may assist you well. However, this is an uncertain option.
Apart from the above two critical steps, students are supposed to take care of other crucial details. These aspects are discussed in the following section. Have a look below:-
Importance of a good resume while applying for big companies during off-campus placements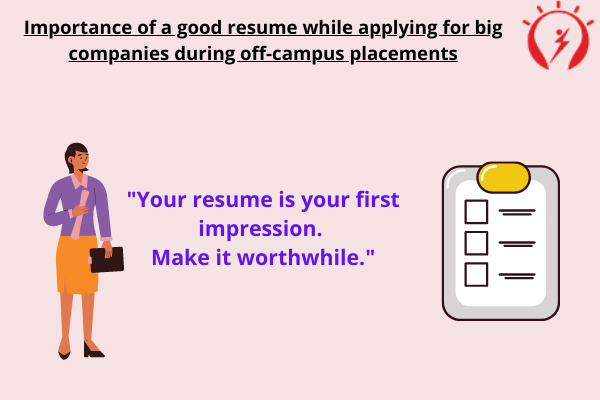 Don't underestimate the power of a good resume. Remember, that it is your first impression in front of the recruiter. Getting the needed visibility becomes a challenge amongst hundreds of other applications. Therefore, a well-curated resume will make you stand apart.
Common Resume Mistake to Avoid– One of the most common mistakes aspirants make is sending the same resume for different roles/organizations. So here's how you can curb tackle such situations:-
i. Read the job descriptions carefully.
ii. Now, focus on your skills which are in congruence with the role.
iii. Freshers might wonder how to enhance their skill section because of no prior professional experience. See, you can always showcase your proficiency in other ways too. Here's how it can be done:-
a. Add project names which you had accomplished during the college,
b. Talk about various cultural/technical societies you participated in,
c. Internship is a huge plus point. So play around with this key strength.
You don't have to know everything to get that dream job. But surely have to have the required willingness to learn. Also, you need to have at least a basic knowledge of the required key skills. In this way, you can write a compelling resume which no one can avoid.
Curate an attractive resume for your dream job from expert assistance. Here is your Resume buddy which will help you either write or score your resume as per your wish. Click Here for more details.
How employability tests can accelerate the process of off-campus placements?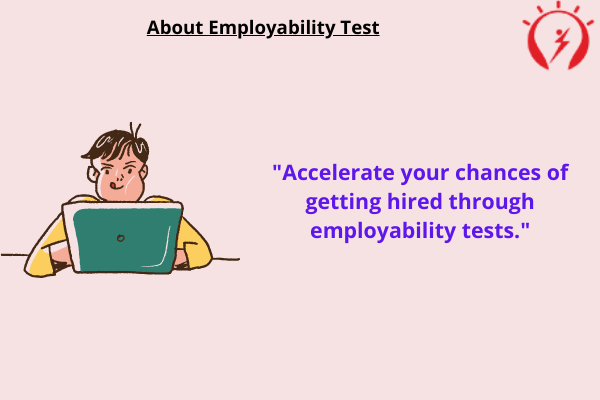 One of the easiest ways to accelerate the off-campus placements process is through employability tests. It is because such assessments increase credibility.
So what are employability tests after all? See, these examinations are uniquely designed for landing jobs in prominent companies. For different roles, such tests are curated differently. In this way, they create a job-specific assessment to fasten the filtering process. It generally comprises of common sections such as quantitative aptitude, logical reasoning, English, etcetera. Also, new sections are added according to specific roles.
Many colleges and companies conduct their placement drives pivoting on such tests. It steadily catalyzes the shortlisting process, especially during bulk-hiring.
One of the most common employability tests is AMCAT exam. This assessment has catered to thousands of colleges so far. It shares a committed trust of more than 700 companies in diverse domains such as IT, Banking, Financial, Telecom, etcetera. AMCAT test scores are valid for one year. Hence candidates to get a good amount of time to get into a suitable role in the desired job.
Your just an AMCAT closer to your dream job. Book your slot here. 
Therefore, one must always consider taking an employability test like AMCAT during the off-campus placement process. In this way, the credibility of one's competence increases. It leaves a lasting impression on the recruiter.
Gear up for your AMCAT test with prepAMCAT: Click Here
Now that you are aware of the know-how of off-campus placements application, don't lose any chance to get your dream job.
All the best!