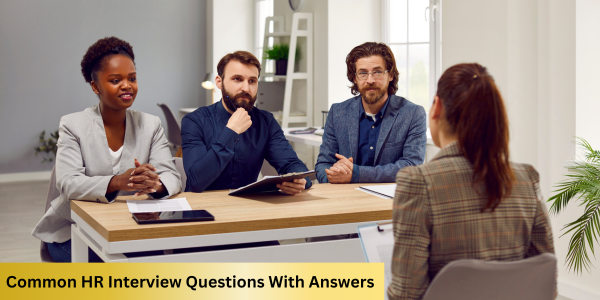 The hiring process starts with the interview by Human Resources (HR) which requires equal preparation as any other job interview. A candidate proceeds further only if he/she successfully clears the interview with Human Resource. An HR does not only validate your experience and education but also assesses if the candidate has the required interpersonal skills and communication skills.
To make a good first impression, a candidate needs to study the common interview questions that may be asked by HR. The questions can be of distinct categories including standard questions on profile, hiring organization, hobbies, computer, or adaptability questions to assess how you think and respond to different situations.
Here is a List of Common HR Interview Questions with Answers:
Introduce yourself – This is the most common first question asked during the interview. This can be asked in diverse ways, for example, tell me about yourself. or run me through your resume? The HR professional with this question is looking for a summary of your skills, education, and experience and to gather more related information which is not part of the resume. While responding to this question, make sure you do not take more than 3-5 minutes and cover all the relevant aspects. The sentences should be well articulated, and the answer should focus more on significant accomplishments.
Why do you want to work with us? The question is to validate if the candidate is interested in the offered role or not. This measures the seriousness of the candidates towards the company if they want to work with this company or if they are applying for an interview with every company that has a position to offer. Candidates should research for the company to be able to answer this question. Candidates should be able to brief on company facts and why it matches with the candidate's expectation.
Why should we hire you? With this question, HR wants to inquire if you have understood the requirements of the offered role. You should highlight your skills and experience that synchronize with the job role.
What are your strengths? HR wants to know about the characteristics to assess the candidate's suitability for the job. You should mention your strengths in the order that the strongest skill should come first. And all the strengths should have relevance to the job role. You should never lie in this question because a cross-question on skill can put you in a tough spot.
What are your weaknesses? This is a tricky question and should be answered with most caution. You should never mention more than 2-3 weaknesses and unlike strengths, the weaknesses should not have relevance to the job role. You should summarize at the end by giving ways on how you are already working on improving the weaknesses.
Why are you looking for a change? This question applies to experienced professionals and is targeted more toward professionals who are changing jobs frequently. The company wants to ensure the candidate will not hop on the job again after a few months or years. When responding, you should not bad mouth about your leaving the organization and should have strong convincing of changing the job.
Apart from the above questions, below are examples of some more questions that should be prepared for:
What are your hobbies?
Do you have leadership skills?
Are you a good team player?
How do you cope with tight work deadlines?
Where do you see yourself in five years?
Are you flexible in travelling and working late hours?
How are you different from the other candidates?
How do you motivate yourself at work?
How do you manage time effectively?
What are your salary expectations?
From the above information, you should now be in a better position to crack the interview round with HR. Despite of how the interview went, keep a smile on your face when the interview is concluded. Lastly, do not forget to say Thank You to the interviewer for taking out time to interview you.