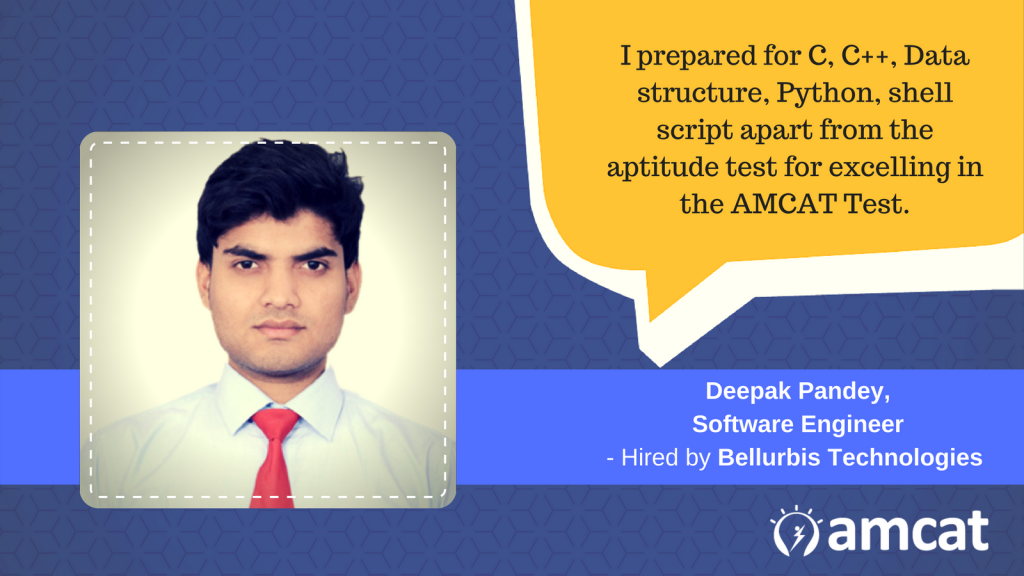 Delhi-based Deepak Pandey always aimed to be a software developer. A 2017 B.Tech graduate from IP University, Pandey had been clear about his intended career trajectory from the beginning. This is his story of how he went through the AMCAT test experience and achieved his goal.
Why the AMCAT Test:
I took AMCAT because I want to make my career in software development.
And he knew that the odds were not good. "There is a lot of competition for even a single job. So, in order to get a good job in a good company, I decided to take the AMCAT Test."
Pandey prepared for the AMCAT Test by taking study material of off the internet. "I prepared for the AMCAT test from the Testspot website."
And did he get the relevant interview calls he was looking for?
"I got my first interview call 1 week after AMCAT. I got 5-6 calls from AMCAT for roles as a software developer."
How was the interview process at the company? What helped you through it? 
"I prepared for C, C++, Data structure, Python and Shell script. The job interview began with a test, with two sections. The first section was an aptitude portion and the other was a puzzle."
"After clearing that test I was eligible for the next round, which was a face to face technical round. And in the face-to-face round (a technical round), the interviewer asked me about my project, some questions from C, Data Structure, C++ and some puzzle-type question."
A week later, he got a call from the AMCAT, that he had been shortlisted for the company.
In the end, he says a planned preparation regime and continued practice on your problem areas can crack the AMCAT Test. He also provides an unequivocal recommendation to the Test.
"I will recommend the AMCAT to others because it provides the best opportunities for beginning your career."
Wish to read more stories from our segment on AMCAT Testimonials? Check out our AMCAT achievers section. And if you're contemplating on giving the test yourself, then click here to schedule an AMCAT Test.