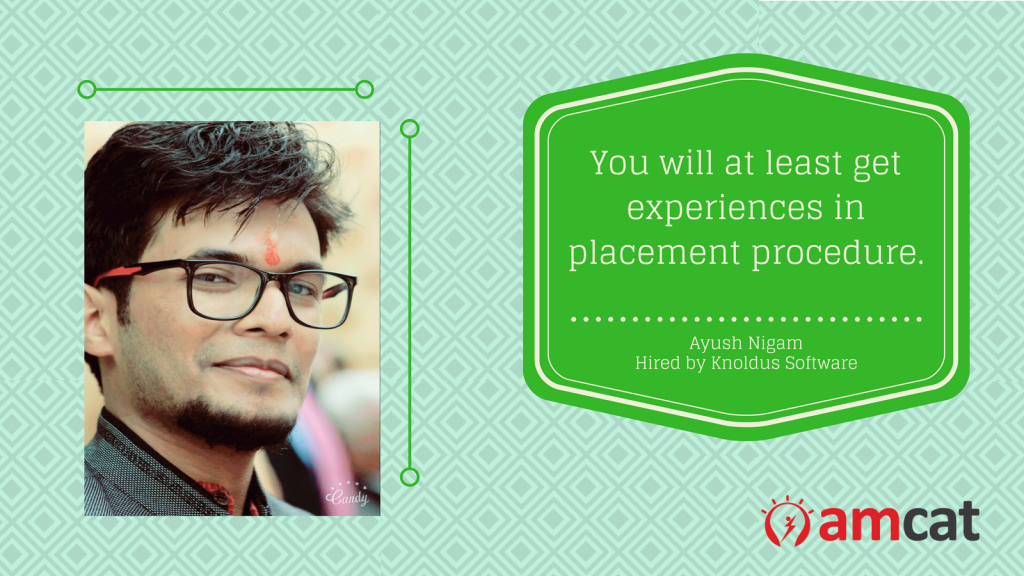 What's the least that you can gain after giving the AMCAT test? We've asked this question to quite a few of our AMCAT achiever students and found a goldmine of answers, which help us understand why they, and others like them, would give the test.
Here's the latest answer! "You will at least get experiences in placement procedure and interview experiences." Hmm. Quite an interesting thought when it comes to why you should give the AMCAT test.
Meet our AMCAT Achiever, Ayush:
"Hi, my name is Ayush Nigam. I like to play Table Tennis, love to do wall sketching."
Hello Ayush! He is also a 2017 graduate with a job in hand, courtesy the AMCAT Test. This AMCAT achiever is about to turn into a graduate from the JSS Academy of Technical Education. His job search experience hasn't been long, it has still been tiresome enough. Till he took the skill assessment test.
"I took the AMCAT because I was not getting less relevant job openings through the other job portals as a fresher."
The AMCAT Test Experience
Ayush, so you took the AMCAT – How did it go for you?
"It was a good experience taking the AMCAT test. You don't require a lot of preparation if your basic fundamentals and concepts are clear."
He did have to wait for the interview calls to begin. Two to three months, exactly, till he received his first interview call. And then they kept coming – 20 till date.
Facing the interview process:
"I prepared well for the interview. I had read about the interview experiences on glassdoor and thus read about their pattern." It went well enough, leading to his current job offer with Knoldus Software LLP as a software engineer.
Overall, Ayush is thankful for his AMCAT achiever journey, counting on the test and a keen focus on programming skills and communication skills. That, according to him, is how you would be able to sail through to a set of appropriate fresher jobs.
Did you like this one of our AMCAT success stories? You can read up on more of these stories in our testimonials section. And if you are considering giving the test yourself, you can schedule one for yourself now.
Have thoughts on the AMCAT journey – leave them in the comments section below.