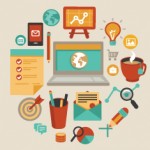 A number of students today are choosing to take the freelance route along with their studies. Wondering why? Well, freelancing has a number of benefits. It is a good way boost your resume and showcase your skills to your prospective employer. It gives you a chance to earn some pocket money while you're struggling with college expenses and the biggest attraction for freelancing, unlike part time jobs or internships, is the flexible nature of the work. With demand for freelancers increasing today, it could also be the answer to the employment dilemma and help you gain some experience while you're still job hunting. Here are a few professions where there's plenty of room for freelancing.
Content Writing – This is the most widely available freelance work in the industry today. If you have a flair for writing and can quickly roll out content then there's plenty of options for you.  The work can include writing articles, blogs, product descriptions for online businesses, product reviews or even content for social media channels like Facebook or Twitter. Plus, if you're fluent in another language, then there's plenty of translation work you can take up.
Web development – With businesses and consumers going online, there is an increased demand for creating a good online presence. Web development has become one of the most in demand and popular tasks that is outsourced to freelancers. Many organizations prefer to work with freelancers for such projects as it saves them the high costs of hiring an agency. If you are adept in web development, then you can start out by reaching new companies or start-ups who would be willing to work with freelancers.
Designing – Design is a bit more challenging sector to join. The work requirements are much more evolved and you would be dealing with demands of clients. For this, you will also require licensed industry-standard software to be able to offer quality design material. You could be creating logos, PowerPoint presentations, marketing collaterals or even advertisements. Create a portfolio of all the work you do and get noticed to have great projects coming your way.
Tutoring – Nothing like sharpening your knowledge by sharing it with others. If you excel at Maths, Science or any other subject then start out by tutoring students around you. Pass the word around through friends or family and take up tuitions in your free time.
These are some of the in-demand professions which you can explore as a freelancer even while you're studying. The experience you gain can add great value to your future job search by showcasing a real and credible portfolio to your prospective employer. So don't wait around. If you have a talent or skill you're confident in, explore the world of freelancing right away!