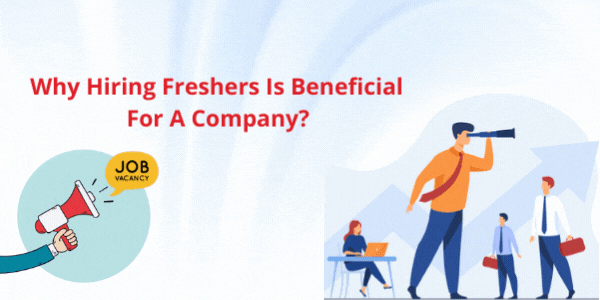 A large pool of resources is available in the market; among them, deciding the best fit for the company is challenging. With limited seats to fill, companies prefer to hire experienced professionals over fresher ones. An Experienced person is assumed to be more knowledgeable of the work requirement and business environment. But if only experienced folks keep getting preference, how will freshers get their first job?
Employers presume that hiring a fresher would involve high time and cost since inexperienced people need training on scheduled work, corporate ethics, and time management. However, hiring a fresher can lead to monetary savings since they do not have high salary expectations. A fresher eagerly waits to land their first job, so their salary bargaining power is low. Employers can then use savings in salary to provide requisite training to the hired fresher.
Apart from cost saving, fresher take lesser time to learn new things since they do not need to unlearn anything first. A person with experience working with other organizations has seen different work cultures and needs more time to adjust to the new company. On the other hand, a fresher can easily be adjusted to the company policies, saving time on training.
Register for AMCAT | India's Leading Fresher's Assessment And Job Site (myamcat.com)
Freshers are generally more committed and ambitious as compared with experienced people. A fresher is ready to work harder for longer hours and appropriately follows the chain of command. Directly coming out of the college makes them more disciplined to work. They listen to their managers, maintain punctuality, comply with work policies and do not indulge in office politics. Working with commitment, honesty, and integrity leads to better work output and helps the organization achieve its objectives. Right mentoring can thus take out the best from a fresher and can even help organizations fill leadership positions in the future.
Apart from the above benefits of hiring a fresher, a significant undermined benefit is that a fresher brings a new thinking perspective to the team leading to innovation and success. They are full of new content and fresh ideas, and any of those can become a breakthrough success idea for a company earlier not been thought of by an existing employee. This is particularly important to the marketing department, which needs different ideas never thought of before to capture customers' attention.
If you are a fresher and are looking for a job in technical background, we have various opportunities available for you and amongst those you can pick as per your preference. AMCAT being India's largest employment test connects job applicants with recruiters. One can effectively analyse their skills and abilities by giving AMCAT, by showcasing the recruiter how capable they are in comparison to other candidates. AMCAT is the best platform to apply for jobs with leading MNC's.