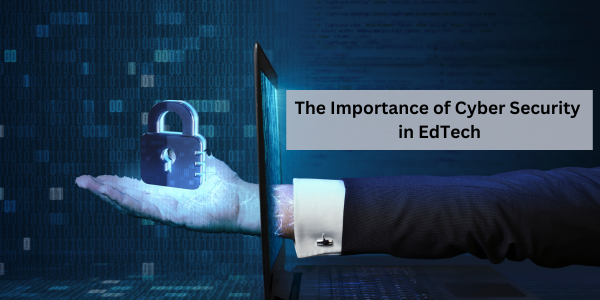 In today's digital era, education has undergone a significant transformation with the integration of technology into the learning process. Educational Technology, or EdTech, has become a cornerstone of modern education, offering immense opportunities for enhanced learning experiences. However, with the increased reliance on technology in the education sector, comes the critical need for robust cyber security measures. The protection of sensitive student data, the prevention of cyber threats, and the safeguarding of educational institutions' digital infrastructure are paramount. In this blog, we will delve into the importance of cyber security in EdTech, exploring the challenges, implications, and best practices for ensuring a safe and secure digital learning environment for all stakeholders involved.
What is Cyber Security and why is it important?
Cyber security refers to the practice of protecting computer systems, networks, and data from unauthorized access, use, or damage. It encompasses a range of technologies, processes, and best practices that are designed to safeguard digital assets and mitigate the risks associated with cyber threats such as hacking, data breaches, ransomware attacks, and more.
In today's interconnected world, where information is stored and transmitted digitally, cyber security is crucial for individuals, organizations, and societies as a whole. Here are some key reasons why cyber security is of paramount importance:
Protection of sensitive data: Data is the lifeblood of modern organizations, including educational institutions. In EdTech, vast amounts of sensitive student data, including personal information, academic records, and financial details, are stored digitally. Cyber security measures are necessary to prevent unauthorized access and protect this data from breaches or theft.
Preservation of privacy: Students and educators trust EdTech platforms to maintain the privacy of their personal information. Cyber security ensures that privacy is maintained, and sensitive data is not exposed or misused by malicious actors.
Continuity of operations: Any disruption to the digital infrastructure of an educational institution can have severe consequences, including interruptions to online learning, administrative processes, and research activities. Cyber security measures help prevent such disruptions and ensure the smooth functioning of EdTech systems.
Protection against cyber threats: Cyber threats, such as malware, ransomware, and phishing attacks, are on the rise and can cause significant harm to EdTech systems. Robust cyber security measures are critical in detecting, preventing, and mitigating these threats, safeguarding the integrity, availability, and confidentiality of educational data.
Reputation management: Cyber security breaches can result in reputational damage to educational institutions, eroding trust among students, parents, and other stakeholders. Maintaining strong cyber security measures helps protect the reputation and credibility of educational institutions.
Compliance with regulations: Educational institutions are subject to various data protection and privacy regulations, such as the Family Educational Rights and Privacy Act (FERPA) in the United States, the General Data Protection Regulation (GDPR) in the European Union, and others. Cyber security measures are essential to ensure compliance with these regulations and avoid legal and financial liabilities.
Cyber security is of paramount importance in EdTech to protect sensitive data, preserve privacy, ensure continuity of operations, guard against cyber threats, manage reputation, and comply with regulations. Implementing robust cyber security measures is crucial to creating a safe and secure digital learning environment for students, educators, and educational institutions alike.
Advantages of EdTech
The integration of Educational Technology (EdTech) has brought about significant benefits in improving the process of learning cyber security. Here are some major advantages:
Enhanced access to learning resources: EdTech has democratized access to cyber security learning resources by providing online platforms, tutorials, videos, simulations, and other digital tools. This enables learners to access a wealth of information and educational content related to cyber security from anywhere, at any time, fostering self-paced and personalized learning experiences.
Real-world simulations and practical learning: EdTech platforms offer virtual labs and simulations that provide hands-on experience with real-world cyber security scenarios. This allows learners to apply theoretical concepts in a practical setting, gaining valuable skills in identifying and addressing cyber security threats in a controlled environment.
Interactive and engaging learning experiences: EdTech has revolutionized the traditional classroom approach by offering interactive and engaging learning experiences through gamification, virtual reality (VR), and augmented reality (AR) technologies. These immersive learning experiences help learners grasp complex cyber security concepts in a fun and interactive manner.
Collaborative learning opportunities: EdTech platforms facilitate collaborative learning among students, educators, and experts through online forums, discussion boards, and group projects. This fosters a collaborative learning environment where learners can exchange ideas, share knowledge, and engage in problem-solving activities, enhancing their understanding of cyber security concepts.
Adaptive learning pathways: EdTech platforms leverage data analytics and machine learning to adapt learning pathways based on individual learners' strengths, weaknesses, and progress. This personalized approach allows learners to receive tailored feedback, guidance, and resources to address their specific learning needs, optimizing the learning process.
Up-to-date content and continuous learning: Cyber security is a constantly evolving field, and EdTech enables learners to access the latest information and updates in real-time. This helps learners stay up-to-date with the latest cyber security threats, trends, and best practices, fostering a culture of continuous learning and skill development.
Career readiness and employability: EdTech plays a vital role in preparing learners for careers in the field of cyber security. By providing industry-relevant skills and certifications, EdTech equips learners with the knowledge and expertise necessary to enter the cyber security job market and contribute to the workforce effectively.
EdTech has significantly improved the process of learning cyber security by providing enhanced access to learning resources, real-world simulations, interactive and engaging learning experiences, collaborative learning opportunities, adaptive learning pathways, up-to-date content, and career readiness. EdTech has revolutionized cyber security education, empowering learners with the skills and knowledge needed to tackle the ever-evolving cyber security landscape effectively.
Also Read: 5 Tips to Help you Cope with Exam Stress
FAQs
Q1: What is EdTech?
Ans: EdTech, short for Educational Technology, refers to the use of technology to enhance and support education, including online learning platforms, digital tools, and educational software.
Q2: Why is cyber security important in EdTech?
Ans: Cyber security is important in EdTech because it protects sensitive information, ensures privacy, and prevents unauthorized access or data breaches in online educational platforms. It safeguards student data, personal information, and other sensitive educational data from being compromised or misused.
Q3: What are the potential risks of cyber security breaches in EdTech?
Ans: Potential risks of cyber security breaches in EdTech include unauthorized access to student data, data leaks, identity theft, financial fraud, malware attacks, phishing, ransomware attacks, and other cyber threats that can disrupt the normal functioning of educational systems and compromise the privacy and security of students, teachers, and other stakeholders.
Q4: How can EdTech companies protect against cyber security threats?
Ans: EdTech companies can protect against cyber security threats by implementing robust security measures such as encryption, authentication protocols, firewalls, regular security audits, employee training on cyber security best practices, strong password policies, regular software updates and patches, data backups, and monitoring for suspicious activities or anomalies in the system.
Q5: How can educational institutions promote cyber security in EdTech?
Ans: Educational institutions can promote cyber security in EdTech by fostering a culture of cyber security awareness among students, teachers, and staff. This can include educating users about best practices for online security, emphasizing the importance of protecting personal information, and promoting responsible use of technology. Institutions should also carefully select and vet EdTech providers to ensure they prioritize cyber security.
Q6: What should you do if you suspect a cyber security breach in EdTech?
Ans: If you suspect a cyber security breach in EdTech, you should immediately report it to the educational institution or EdTech provider. They may have established protocols and procedures for handling security incidents. It's also important to change passwords and monitor accounts for any signs of unauthorized activity.
{
"@context": "https://schema.org",
"@type": "FAQPage",
"mainEntity": [{
"@type": "Question",
"name": "What is EdTech?",
"acceptedAnswer": {
"@type": "Answer",
"text": "EdTech, short for Educational Technology, refers to the use of technology to enhance and support education, including online learning platforms, digital tools, and educational software."
}
},{
"@type": "Question",
"name": "Why is cybersecurity important in EdTech?",
"acceptedAnswer": {
"@type": "Answer",
"text": "Cybersecurity is important in EdTech because it protects sensitive information, ensures privacy, and prevents unauthorized access or data breaches in online educational platforms. It safeguards student data, personal information, and other sensitive educational data from being compromised or misused."
}
},{
"@type": "Question",
"name": "What are the potential risks of cybersecurity breaches in EdTech?",
"acceptedAnswer": {
"@type": "Answer",
"text": "Potential risks of cybersecurity breaches in EdTech include unauthorized access to student data, data leaks, identity theft, financial fraud, malware attacks, phishing, ransomware attacks, and other cyber threats that can disrupt the normal functioning of educational systems and compromise the privacy and security of students, teachers, and other stakeholders."
}
},{
"@type": "Question",
"name": "How can EdTech companies protect against cybersecurity threats?",
"acceptedAnswer": {
"@type": "Answer",
"text": "EdTech companies can protect against cybersecurity threats by implementing robust security measures such as encryption, authentication protocols, firewalls, regular security audits, employee training on cybersecurity best practices, strong password policies, regular software updates and patches, data backups, and monitoring for suspicious activities or anomalies in the system."
}
},{
"@type": "Question",
"name": "How can educational institutions promote cybersecurity in EdTech?",
"acceptedAnswer": {
"@type": "Answer",
"text": "Educational institutions can promote cybersecurity in EdTech by fostering a culture of cybersecurity awareness among students, teachers, and staff. This can include educating users about best practices for online security, emphasizing the importance of protecting personal information, and promoting responsible use of technology. Institutions should also carefully select and vet EdTech providers to ensure they prioritize cybersecurity."
}
},{
"@type": "Question",
"name": "What should you do if you suspect a cybersecurity breach in EdTech?",
"acceptedAnswer": {
"@type": "Answer",
"text": "If you suspect a cybersecurity breach in EdTech, you should immediately report it to the educational institution or EdTech provider. They may have established protocols and procedures for handling security incidents. It's also important to change passwords and monitor accounts for any signs of unauthorized activity."
}
}] }