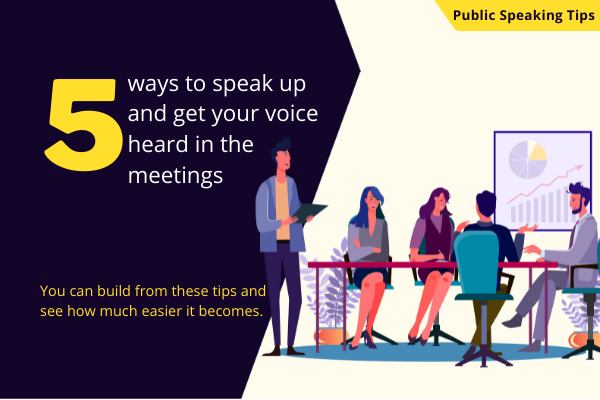 Meetings are a must in the office, whether you like them or not. It's usually where minor issues are sorted out and new concepts are generated. It's normal to feel nervous, self-conscious, and speechless in a face-to-face or online meeting.
Meetings are not just meetings. Meetings, regardless of your job title, are an opportunity to develop connections with your co-workers and perhaps position yourself as a leader.
While most of us undoubtedly waste too much time in meetings with no agenda that keeps us from getting work done, speaking out at a meeting has its own benefits. When you speak up during a meeting, it demonstrates that you are capable of sharing your thoughts and opinions, as well as having challenging discussions with others.
Meetings are a great way to get your name out there. When you can "hold your own" at a meeting, you exhibit confidence and initiative, which might help you stand out as a potential leader.
Here are a few techniques to communicate with confidence and get your point across, whether you're talking to team members or present or potential clients:
Register for AMCAT | India's Leading Fresher's Assessment And Job Site (myamcat.com)
Come Prepared:
It is important to be prepared in your mind what you are going to say in the meeting. And in a meeting, it's just not about speaking but giving a contribution that will add value. After you are aware of what you need to speak about, your next step would be to identify how you are going to present it to members and what output is expected from you in the meeting. A Speaker should research in advance the agenda of the meeting and meeting environment, which can be a webinar, training, teleconference, peer meeting, management meeting, or job interview.
Ask Questions:
If you are not yet confident in presenting your ideas in the meeting, you can start by asking questions. This will not only give you the initial required confidence but also present you as an engaged and interested attendee. Questions can be on what other attendees are speaking about and can be about anything you should know. So when you are next time going to meeting, go prepared with a series of questions to ask.
Confidence is the key:
When speaking up in a meeting, it is imperative to be confident. If you are a shy person, speak loud and clear to boost your confidence level. You must believe in what you are saying and show a firm commitment to it. If you do not sound confident in your idea, your voice is not going to be taken seriously. So overcome your self-doubts and make a good confident impression for yourself.
Overcome the interruptions:
When speaking in a meeting, there are chances you get interrupted by your peers. Such interruptions can impact your perceived status. It is important to understand why you are being interrupted and if it is to move the topic away from you, be polite and ask them to let you finish. There can be instances you can get interrupted more than once. Maintain your composure and do not let your emotions run over you. Continue to focus on your output and finish speaking your idea with confidence.
How much to speak:
Decide in advance how many times you must speak in a meeting and prepare accordingly. You must be mindful that asking too many questions can delay the meeting.
Meetings, whether in person or online, are a crucial method to raise your profile, improve your professional chances, and build your confidence. As a result, it's critical to overcome your fears or disappointments and learn how to use this chance.