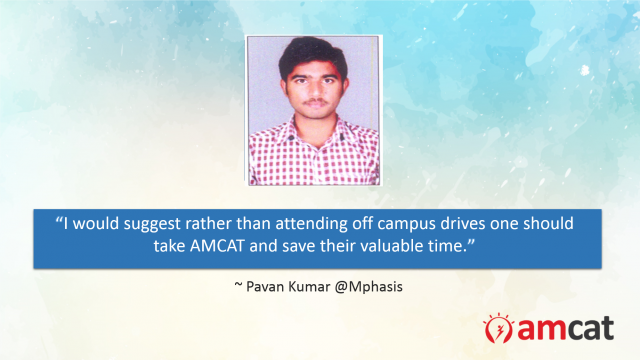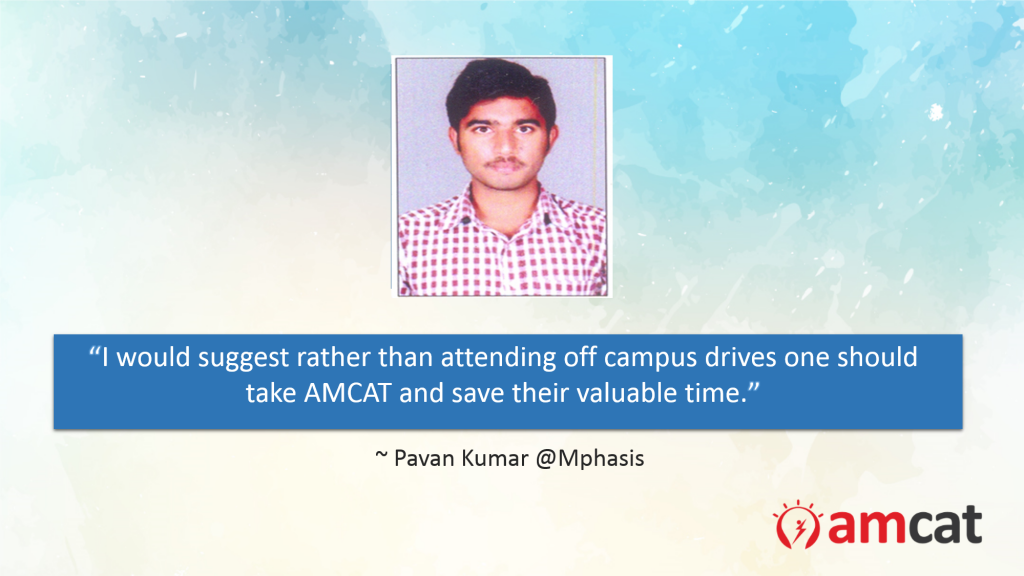 Meet Pavan Kumar from Vishnu Institute of Technology and now how he managed to get a good fresher job (MPhasis) right at the start of his career.
Q: Tell us something about yourself and your career goals.
My name is Pavan Kumar and I have done B.Tech in ECE branch in 2015 and my career goal is to be an entrepreneur.
Q: What difficulties did you face while searching for a job and how did you overcome those difficulties?
My academic record was not up to the mark, due to which I was not eligible for most of the on campus drives. When I started applying for off-campus I saw that there is huge competition. Then, I heard about AMCAT and took it.
Q: Tell us about your experience post giving the AMCAT test and how AMCAT helped you in getting the job at Mphasis?
After taking AMCAT I got a call from Mphasis and it was my first call through AMCAT and I kept all my efforts in preparing for further rounds and got selected for it.

Q: Would you suggest other job seekers to take AMCAT? If yes, why
Yes, definitely, I would suggest my friends to take AMCAT who are searching for job.
Q: Would you like to share some tips which can help other job seekers in getting a good job?
I took AMCAT and scored pretty well, Mphasis was the first company from which I got the interview call and I got selected.
I would suggest rather than attending off campus drives one should take AMCAT and save their valuable time.
Want to kickstart your career in a right way? Take AMCAT and get a step closer to your dream job!