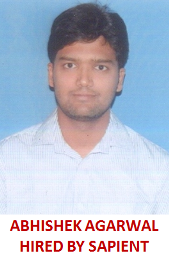 Aspiring Minds: Congratulations on getting the job at Aspiring Minds! How does it feel to get the first job?
Abhishek: First of all a heartfelt thanks to the entire Aspiring Minds Team for helping me get my first job. Being a fresher, one encounters lot of hurdles, especially students from Tier2/3 colleges. I would sum up the entire experience as a cake walk – I gave the test, got the scores and soon I was informed that I've been shortlisted for Sapient GM.
Aspiring Minds: How has been your job hunting experience so far? How did you find about AMCAT?
Abhishek: AMCAT was conducted in our campus; I heard about the test from my seniors – the Feedback Report and the Performance Chakra are really helpful to assess ones strong and the weak areas. I knew that the test would provide me useful insights as to which all technical/non-technical areas should I improve and how.
Aspiring Minds: Tell us something about your interview experience.
Abhishek: It was great. Being a fresher you're expected to be a little nervous during the interview but, I was pretty confident on the interview day. I knew that I have a strong hold on the technical concepts, I cleared the technical round and was shortlisted for the further rounds.
Aspiring Minds: Any message for the AMCAT takers out there?
Abhishek: AMCAT is one genuine test that would apprise a candidate of his/her strong & weak areas & how to improve them. Off-campus placements are too difficult to crack these days, AMCAT could just make your job hunt easier!
Abhishek Agarwal,
Vellore Institute Of Technology, 2012 Batch
Hired by Sapient Global Market
More than ten lakh students have taken AMCAT, each month more than 70,000 interview calls are given by companies based on AMCAT. 200+ companies recognize AMCAT and each month more than 60 new companies use AMCAT to recruit freshers.Visit http://www.myamcat.com to know more!