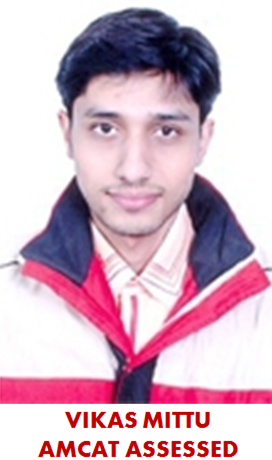 Aspiring Minds: Congratulations on securing your first job through AMCAT. How does it feel?
Vikas:I was very eager to start my career. Over the years, I have gained a lot of knowledge, but I haven't implemented any of it. I'm still in the process of learning but with this job I would be able implement the concepts that I've learnt so far, which is very exciting to say the least!
Aspiring Minds: How has your job-hunting experience been so far?
Vikas:Initially it was difficult. For freshers, getting directly in touch with companies is very difficult. With no experience, approaching companies is almost always fruitless as one has to wait for walk-ins etc. Also, different companies have different selection criteria which makes it more difficult for freshers like us to know what exactly employers want. Just because of this, I got rejected in the technical round of Google whereas I got rejected in the HR round of Dell.
Aspiring Minds: How did you find out about AMCAT and why did you decide to take this exam?
Vikas:My college has tied up with Aspiring Minds, and each year all the students in my college give this exam. I too gave the exam when it was conducted on our campus. I'm really thankful to Aspiring Minds and AMCAT for giving me this opportunity.
Aspiring Minds: What kind of strategy did you have for finding your first job?
Vikas: I worked really hard and practiced aptitude questions for 3 months. After that I gave quite a few exams –mock tests, other public sector exams which also helped me improve my aptitude skills. I also attended some training sessions in my college. The internet is a vast source of knowledge, you'll find almost all the answers to your doubts and question over there and that's where I found my answers.
Aspiring Minds: Do you have any message for the job-seekers out there?
Vikas: One of the biggest misconceptions is – "There are no jobs out there", which is completely false. There are a lot of jobs out there, the only thing you need to do is prepare yourself for the exams and interviews. Have an aim and pursue that aim passionately; No one would be able to stop you then.
Vikas Mittu, 2012 Batch
Lovely Professional University, Hired by Live Deftsoft informatics
More than ten lakh students have taken AMCAT, each month more than 70,000 interview calls are given by companies based on AMCAT. 200+ companies recognize AMCAT and each month more than 60 new companies use AMCAT to recruit freshers.Visit http://www.myamcat.com to know more!