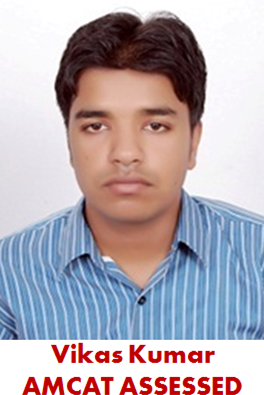 Aspiring Minds: Congratulations on securing your first job through AMCAT. How does it feel?
Vikas: It feels great. I had been looking for a job in Bangalore for the past 3 months so I feel relieved and happy.
Aspiring Minds: How has your job search been so far? Did you face any problems while looking for a job?
Vikas: Sometimes I got rejected because of my communication skills and other times I was under-prepared for the technical rounds. I was also having trouble getting shortlisted since my B.Tech aggregate is around 67% and many companies ask for a minimum score of 70% and even 80%. It's great that at AMCAT students are judged on their aptitude and domain skills. I also posted my resume on all job portals like naukri, monster etc. I also applied to a lot of off-campus events but never got any response.
Aspiring Minds: What kind of expectations did you have when you started looking for a job?
Vikas: I was looking for a technical job, to be precise, a job as a software developer. I think I've been able to achieve those expectations with Langoor.
Aspiring Minds: How did you get to know about AMCAT and why did you decide to take the exam?
Vikas: I attended a HCL drive in my college in which the students were asked to take AMCAT that's when I got to know about AMCAT. After the drive some of my friends gave the exam separately and they told me they got a lot of job opportunities through AMCAT so I too took the test.
Aspiring Minds: How did you prepare for the interviews?
Vikas: I prepared a list of frequently asked questions in interviews and studied them. I also worked on my programming concepts like Java, C. The AMCAT feedback report helped me to estimate my abilities and also my weak areas so that too was very helpful.
Aspiring Minds: Do you have any message for your fellow AMCAT takers?
Vikas: Practice practice practice! And never lose hope. Keep trying until you get a job. Companies can't interview all the students passing out every year, they need some criteria to shortlist students, your AMCAT score could be that criteria.
Vikas Kumar
Govind Ballabh Pant Engineering College
Hired by Langoor Digital Pvt.Ltd
More than ten lakh students have taken AMCAT, each month more than 70,000 interview calls are given by companies based on AMCAT. 200+ companies recognize AMCAT and each month more than 60 new companies use AMCAT to recruit freshers.Visit http://www.myamcat.com to know more!