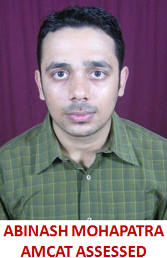 Greetings to all the 'aspiring minds' who aim to make it big one day. I had joined the management program with similar dreams, but trust me, the journey wasn't easy. Even after putting your best efforts, a lot depends on the placement opportunities you get.
I have been through many interview processes. I vividly remember one of the interviewers once said very rightly 'If you don't get selected, doesn't mean you are bad, just that you don't fit into the profile they are offering'. I could very well associate myself with this statement as owing to market slowdown for Finance, average GPA, unsuitable profiles and offers, my opportunities were less. Gradually as time passed and my peers were getting placed, it challenged my strength of character. Luckily I did not surrender to inappropriate profile/package. Thanks to Aspiring Minds who came to rescue at the right time! They conducted AMCAT after which based on my profile, I got an interview call from DAIMLER (Daimler India Commercial Vehicles).
This was the first ray of hope. After several rounds of interviews, I got selected and here I am, Management Trainee in my dream company! Hope all your stories have similar happy endings.
Abinash Mohapatra, 2012 Batch
Hired by Daimler India Commercial Vehicles
ICFAI Business School Hyderabad
More than ten lakh students have taken AMCAT, each month more than 70,000 interview calls are given by companies based on AMCAT. 200+ companies recognize AMCAT and each month more than 60 new companies use AMCAT to recruit freshers.Visit http://www.myamcat.com to know more!