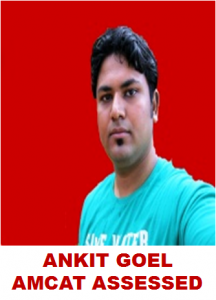 I was in the final year of my B.Tech, when for the first time Aspiring Minds came to our college & we were called for the registration of AMCAT exam. Aspiring Minds assured us about their tie-up with various MNCs. All of my colleagues were registering for the AMCAT but I did not. Frankly speaking I had no trust at that time over Aspiring Minds that they have a tie-up with Non-IT companies as well, as I was from EC background & wanted to be in the Core Company. I was very depressed, because core companies do not recruit from colleges other than IITs/NITs.
After my friend insisted, I registered for the AMCAT exam which consists of Technical, Aptitude, Verbal, Reasoning sections. It was a common test for all branches. I scored more than 90 percentile in technical. One day, I got a call from my TPO that I have been short-listed for Ericsson Interview, based on my percentile in AMCAT. That was an amazing moment for me. I then realized that Aspiring Minds has contacts with Core Companies also. Since then, I am informing my friends & juniors to register for the AMCAT exam.
Friends….. Never miss a chance of getting placed. Don't think that your Training & Placement cell would be enough to provide you placement. It is better to explore jobs on your own. In this context, Aspiring Minds can help you surely. It will provide you more job options in various MNCs.
I am saying with my experience that in your journey of getting employed in a good company, Aspiring Minds will play an important role. Thus I'll recommend each & every one, whosoever is looking for a job, should register for the AMCAT exam. Decision is yours!!! Wish you all Good Luck to obtain your corporate career!!!
Ankit Goel, 2010 batch
ABES Engineering College, Ghaziabad, Uttar Pradesh
Hired by Ericsson India Pvt Ltd.
More than ten lakh students have taken AMCAT, each month more than 70,000 interview calls are given by companies based on AMCAT. 200+ companies recognize AMCAT and each month more than 60 new companies use AMCAT to recruit freshers.Visit http://www.myamcat.com to know more!