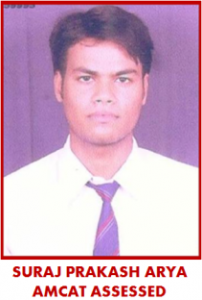 Placed at a package of 8 LPA at Vizury Interactive Solutions through AMCAT, Suraj shares the journey of his success with Aspiring Minds…
I would like to credit my big and long awaited success to my parents and Aspiring Minds. My parents showed a great faith in me. After months and months of laborious attempts and Aspiring Minds providing the best of opportunities under my strength I could make for this day.
The skill analysis test of Aspiring minds is according to the requirement of industries. This test has proved very significant in exploring the strengths of the individuals. The basis of the test is in accordance to the fact that deserving ones must achieve their goal. No matter if you are through with your first attempt provided by AMCAT or not, it serves you until and unless you do not reach your goal. For instance, I was rejected by 4 companies through AMCAT before, but I was supported by continuous efforts by Aspiring Minds that resulted into a selection in a Company like Vizury. I am very thankful to the Aspiring Minds team.
It is very rightly said that "when it has to happen it will happen; just the right time is awaited". I have experienced it truly. The day for the interview call of "Vizury Interactive Solutions" was my day with a bag full of happiness. Round by round everything went on and I did not realize the end of the day. The positive responses in every round were soothing to my ears. But next day the call from the company HR saying that I was the only candidate to be selected was unbelievable. I was like in my dreams! But sooner I realized it was true. My dream finally came true!
I would like to wind up by saying that AMCAT is best in providing opportunities to the deserving candidates, no matter how adverse the market is.
Suraj Prakash Arya
Sri Ramswaroop Memorial College of Engineering and Management, Lucknow
Hired by Vizury Interactive Solutions
More than ten lakh students have taken AMCAT, each month more than 70,000 interview calls are given by companies based on AMCAT. 200+ companies recognize AMCAT and each month more than 60 new companies use AMCAT to recruit freshers.Visit http://www.myamcat.com to know more!