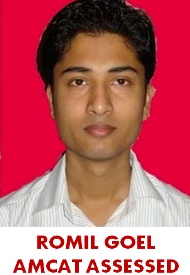 myAMCAT.com presents "The AMCAT Advantage"- a series of experiences shared by AMCAT-takers.
Romil Goel, hired by Tally Solutions, shares his interview experience with Aspiring Minds…
On 29th April, when the first round of the recruitment process began, I was discussing with my friends after the test that my question paper was missing the last 16 mark question. The paper however, went very well as it was based on Data structures/C/SQL/DBMS which are my strong areas. The call to the next round cleared that my doubt was an illusion!
On 11th June the technical interview was conducted. The whole interview went on Data structures and Programming. Then after the interview the interviewer gave me a printed A4 sheet on which a programming question was written. He asked me to wait outside and write the program for that question. That was really  tough question. Luckily I am good with programming. I wrote the program.
Then the interviewer reviewed the program. He told me that the program is correct but I need a more optimized program. After some 20 minutes I gave him an optimized version of the program. But he was unable to understand the program. I explained him the program by dry-running it; and finally I cleared that round.
Then there was a Online Test to check the abilities of the candidate. The test was simple. I got away with that too. The the HR co-ordinator told me to come tomorrow for the final interview.
The final interview was supposed to be an HR interview but it turned out to be with the Head of the R&D department. The interview was very tough as the question asked were research based. Finally, the interviewer wished me by offering the job. I was like "Huh…Finally!!!" Many thanks to AMCAT.
Romil Goel
ABES Engineering College, 2012 Batch
Hired by Tally Solutions
More than ten lakh students have taken AMCAT, each month more than 70,000 interview calls are given by companies based on AMCAT. 200+ companies recognize AMCAT and each month more than 60 new companies use AMCAT to recruit freshers.Visit http://www.myamcat.com to know more!