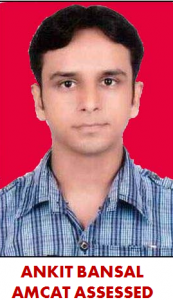 myAMCAT.com presents "The AMCAT Advantage"- a series of experiences shared by AMCAT-takers.
Ankit Bansal shares his experience with Aspiring Minds…
"I would like to appreciate Aspiring Minds Team for providing a neutral platform for the students where they are not judged by the name of their college rather by their skills and scores.
Being from a college where campus placement is a rare thing and if it is there, the package is just around 3 Lakh but Aspiring Minds provide me with the opportunity to get almost double the package and that too in a reputed company.
I also wish to thanks my parents, teachers, friends and other classmates who helped me in developing my skills and motivated me from time to time. I hope Aspiring Minds continue with this wonderful work and expand their network with both companies and students and help students to get the dream job in their dream companies."
Ankit Bansal
Bhagwan Parshuram Institute of Technology, 2012 Batch
Hired by Tally Solutions
More than ten lakh students have taken AMCAT, each month more than 70,000 interview calls are given by companies based on AMCAT. 200+ companies recognize AMCAT and each month more than 60 new companies use AMCAT to recruit freshers.Visit http://www.myamcat.com to know more!