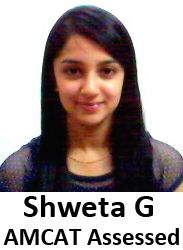 Aspiring Minds: Tell us something about yourself and your career goals.
Shweta: My name is Shweta. I'm currently pursuing B.E. in Information Science.  I would like to work on software projects and gain expertise in the Information Technology field.
Aspiring Minds: What difficulties did you face while searching for a job and how did you overcame those difficulties?
Shweta: Due to recession IT companies have cut down on hiring and hence it has affected campus recruitment. Even if some companies come for campus recruitment, they have very few openings. Since my AMCAT score was good I was eligible for many other companies.
Aspiring Minds: Tell us about your experience post giving the AMCAT test and how AMCAT helped you in getting the job at RetailOn?
Shweta: Preparing and answering quantitative, analytical and computer language test gave me more insight into the basics and in honing my skills.
Aspiring Minds: Would you suggest other job seekers to take AMCAT? If yes, why
Shweta: Yes, to strengthen your basics and to get your dream job.
Aspiring Minds: Would you like to share some tips which can help other job seekers in getting a good job?
Shweta: Prepare, practice, and put in your best efforts; the rewards are going to be excellent.
Shweta G, BNM Institute of Technology, 2014 Batch
Hired by RetailOn
Visit http://www.myamcat.com/schedule-test and book your slot today!