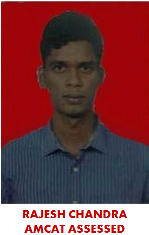 Placement activities started in the final year at my college, and like any other student in his final year I appeared for the placements. To be honest, I never prepared for any interview. I believe that the best way to learn is by experience so I attended as many Interviews as possible. Most of my learning was through interaction with the various interviewers that interviewed me.
I gained a lot of experience and learnt a lot by attending interviews, sitting for the written rounds. I then had a chance to appear for microsoft placements. It was the best interview process I attended and I would like to thank AMCAT for giving me the opportunity to sit for the Microsoft placement drive.
I was shortlisted based on my AMCAT scores, I am assuming that if you are reading this you would have written AMCAT, if not I personally recommend you to go and register yourself immediately and urge you to take this test seriously.
AMCAT has given me the opportunity to sit for some of the best companies. Getting back to my Microsoft interview, I had two written rounds and four rounds of personal interview. It was a unique experience, everything was new, the questions they asked, the way the interviewers carried themselves, the way they spoke to me. It is like a dream come true, clearing all the rounds.
Rajesh Chandra
RNSIT, Bangalore, 2012 Batch
Hired by Microsoft
More than 25,000 students get career guidance using AMCAT every month. On an average, 30 students are hired through AMCAT every day for various companies for diverse profiles. To know more, visit: http://www.myamcat.com/