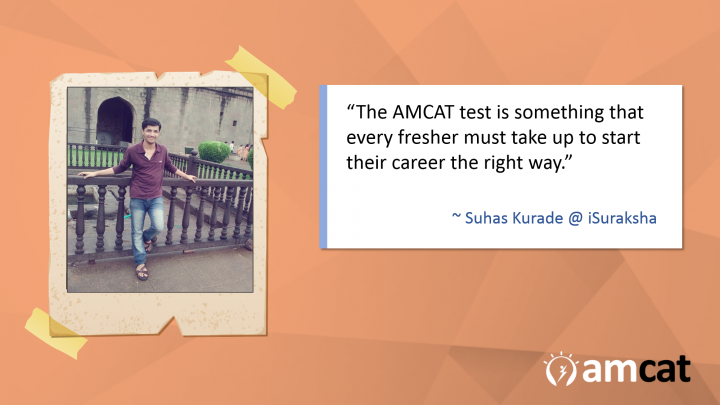 Isn't it tough to get a fresher job in a good company with the right job profile at the beginning of your career?
Meet Suhas Kurade, a fresher from Annasaheb Dange College of Engineering and Technology, and know how he managed to kick-start his career in the IT industry and nab an opening with iSuraksha.
Q: Tell us something about yourself and your career goals.
Hi, my name is Suhas Kurade. I completed by B.E. in 2016. I am a person who can manage and work wonderfully under stress. As far as my goals are concerned, I want to work in a reputed organisation and enhance my strengths and skills. That's what I want to do.
Q: What difficulties did you face while searching for a job and how did you overcome those difficulties?
It is very difficult to get a good job as a fresher. Sometimes you get opportunities but that doesn't match your skill set. The basic problem that I faced was that I was not able to crack the aptitude test of the companies. But, after taking AMCAT, I don't know how my confidence just doubled. I would say I didn't find right opportunity until I took AMCAT Test.
Q: How long did it take to get your 1st interview call after AMCAT?
I started receiving interview calls after 15 days of the AMCAT result. And, I must add here that AMCAT team does a commendable job. Their feedback report is outstanding. You get to know about your strengths and weaknesses.
Q: Tell us about your experience post giving the AMCAT test and how AMCAT helped you in getting the job at iSuraksha Solutions Private Limited?
AMCAT test is excellent. As I mentioned above, their feedback report helped me know about my pain points. I worked hard on my weaknesses and got a job at iSuraksha Solutions Private Limited.
Q: How many interview calls did you get after taking the AMCAT?
I got many interview calls almost on a daily basis after taking the AMCAT test.
Q: Would you suggest other job seekers to take AMCAT? If yes, why.
Yes. I will definitely suggest job seekers to take the AMCAT test. It helps you get a step closer to your dream job. The AMCAT test is something that every fresher must take up to start their career the right way.
Q: Would you like to share some tips which can help other job seekers in getting a good job?
Confidence and positive attitude are the pillars to reach the apex of success. Don't lose hope. Work hard and focus on your goal. All the very best. 🙂
Want to kickstart your career in a right way? Take AMCAT and get a step closer to your dream job!