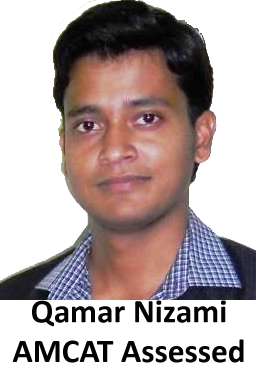 Aspiring Minds: Tell us something about yourself and your career goals
Qamar: My name is Qamar Nizami from Bihar. I am a mechanical & Production engineering graduate from Sathyabama University, Chennai. My career goal is to make myself capable enough to hold a reputed position and work efficiently in an esteemed  company.
Aspiring Minds: What difficulties did you face while searching for a job and how did you overcame those difficulties?
Qamar: During my job search I faced lot of problems as recession was in the market. The vacancies were lesser but I kept on trying my best and gave a lot of exams and kept my hopes up.
Aspiring Minds: Tell us about your experience post giving the AMCAT test and how AMCAT helped you in getting the job at Accenture?
Qamar: After giving my AMCAT exam I was not sure about my job opportunity although the exam was good and the pattern of the exam was nice and easy. AMCAT sent me the mail of some companies in which I was shortlisted for the interview. I attended those interviews and finally got selected in Accenture.
Aspiring Minds: Would you suggest other job seekers to take AMCAT? If yes, why
Qamar: Of course I will suggest and highly recommend job seekers to take AMCAT exam. As you just have to give the exam and leave everything else on Aspiring Minds. You will keep getting job opportunities matching your profile.
Aspiring Minds: Would you like to share some tips which can help other job seekers in getting a good job?
Qamar: While giving the exam be focused on your core subjects and English. After that for the interviews be sure about your branch subjects' knowledge, about your project, company profile (in which you are going for the interview) and most important be honest to HR and confident with a smile…. and you will be through.
Qamar Nizami, Sathyabama University, Chennai – 2013 Batch
Hired by Accenture