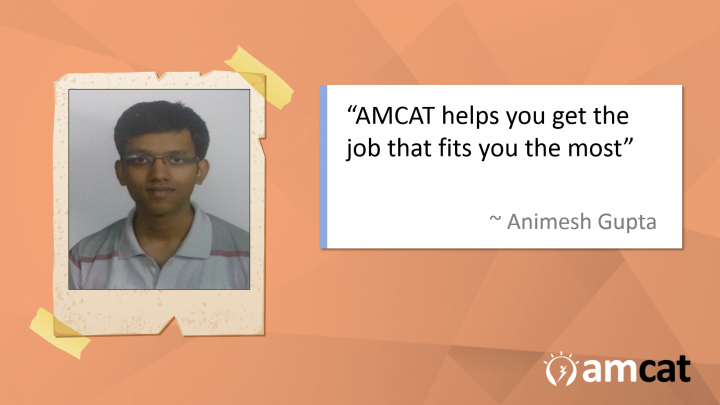 Isn't it tough to get a fresher job in a good company with the right job profile at the beginning of your career?
Meet Animesh Gupta from Delhi Technical Campus of Technology and know how he managed to kick-start his career in the IT industry and nab an opening with Monsoon Credit Tech.
Q: Tell us something about yourself and your career goals.
Hi, my name is Animesh. I am a Tech savvy and have a dream to work for a well-renowned tech company.
Q: What difficulties did you face while searching for a job and how did you overcome those difficulties?
I was not getting a correct platform to get the job. AMCAT came in my life as a saviour.
Q: How long did it take to get your 1st interview call after AMCAT?
I got the first interview call within a week after taking AMCAT.

Q: Tell us about your experience post giving the AMCAT test and how AMCAT helped you in getting the job at Monsoon CreditTech?
After taking AMCAT, I started receiving calls from different companies and after my interview with Monsoon Credit Tech I felt it's the right company for me. AMCAT is wonderful. It gets you the job that fits you the best.
Q: How many interview calls did you get after taking the AMCAT?

Oh, I don't remember. There were many.
Q: Would you suggest other job seekers to take AMCAT? If yes, why.
Yes, AMCAT helps you to find right job and guides you the right way.
Q: Would you like to share some tips which can help other job seekers in getting a good job?
Try to be proficient in whatever you learn and be confident.
Want to kickstart your career in a right way? Take AMCAT and get a step closer to your dream job!