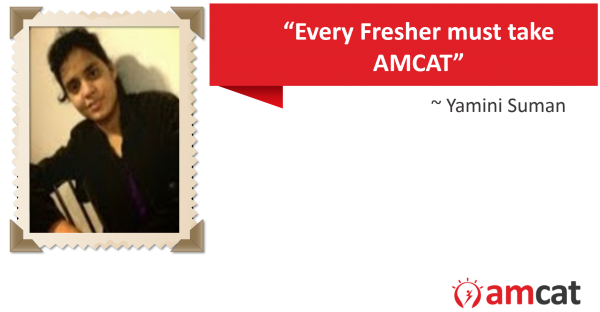 Meet Yamini Suman, a fresh graduate from Bundelkhand University and know how she managed to kick-start her career in the IT industry straight out of college.
Q: Tell us something about yourself and your career goals.
My Name is Yamini Suman, and I am from Varanasi. I have completed B.Tech in CSE branch from Bundelkhand University, Jhansi. My career goal is to start my own business and be my own boss. But, before I do that, I want to gain expertise in my core areas by working in a good company.
Q: What difficulties did you face while searching for a job and how did you overcome those difficulties?
Frankly, I did not face many difficulties, AMCAT was there as a medium to sort out every problem.
Q: How long did it take to get your 1st interview call after AMCAT?
15 days.

Q: Tell us about your experience post giving the AMCAT test and how AMCAT helped you in getting the job at MphasiS?
After taking AMCAT I was sure that I will score well but never expected to be in the topper list of that quarter. The experience was great, I started getting many interview calls but was waiting for the right opportunity. And then Mphasis happened.
Q: Would you suggest other job seekers to take AMCAT? If yes, why.
Definitely, it is a wonderful platform which provides you a ray of hope. It helps you to know about your positives and negatives. Every fresher must take AMCAT.
Q: Would you like to share some tips which can help other job seekers in getting a good job?
Yes. Just focus on your basics. Clear your doubts. Do practice every day.
Yamini is not the only one, read more of our success stories and know how AMCAT helped them get their dream job.